Ultrabook Slider Concept Converts to a Tablet in Seconds (Video)
Intel showed off the Ultrabook at CES 2012, with a focus on changing the computing experience for all users. One of the notable concepts that Intel showed off is the Slider or Convertible Tablet PC.
These aren't new, as we've seen a Samsung Sliding computer last year, but with the next generation of Intel Core i powered Ultrabook sliders and convertibles, you don't have to settle for an Atom based processor that limits what you can do.
Instead, you get a full notebook experience that doesn't cut corners on power, making this new form factor something that could catch on at work and at home.
Ultrabook Slider Video: UltraBook to Tablet in Seconds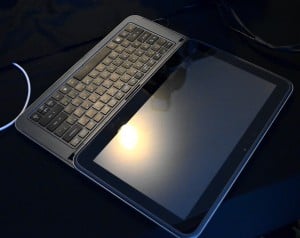 On the tablet PC side of things, we've had convertible tablets forever, but there's been only mild reception on the consumer side of things, leaving Tablet PCs as a niche market. With Windows 8 and touch screen Ultrabook designs like the one shown above, I think we'll see a resurgence in Tablet PCs, even if they are known as Ultrabooks.
In the short time I had to play with the Ultrabook Slider, it felt both light and sturdy and the slide mechanism operated smoothly. I'm interested to see how well the keyboard works in daily use.
No manufacturers have announced an Ultrabook slider yet, but it is possible that we will see some Ultrabooks adopt this form factor before the year is out. My best guess is that this focus on touch won't arrive until the second half of 2012, alongside Microsoft Windows 8.