UltraHD Panasonic 20-Inch Windows 8 Tablet Hands-On
UltraHD, more colloquially referred to as 4K, displays are the meme of this year's Consumer Electronics Show much like how 3D displays were a large theme a few years ago. And It's good to see that UltraHD will be migrating from both large HDTVs to smaller monitors and tablets, and Panasonic was on hand to show us its new UltraHD Windows 8 tablet concept at the show.
The tablet looks extremely thin and for a tablet of that size it wasn't too heavy at all. The prototype did run a little warm, but the highlight of the screen of the tablet is the display, which offers rich, vibrant colors and made photos and videos pop like it was life-life.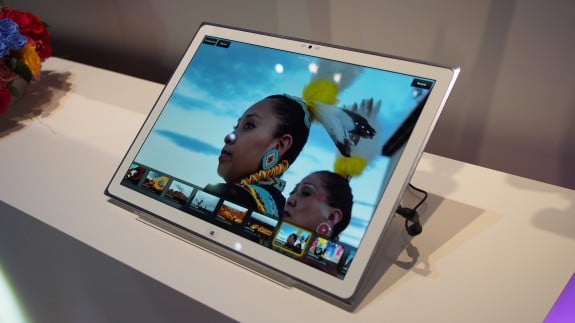 The tablet itself runs an Intel Core i5 processor and can support up to 16 GB of RAM along with an NVIDIA GeForce processor to power the 4 times regular 1080p resolution.
And even though the UltraHD resolution is 4 times that of 1080p HD displays today, Panasonic's large Windows 8 slate won't be as pixel-dense as Apple's Retina Display iPad. The big reason is that the 4K worth of pixels is spread out over a larger 20-inch surface rather than a smaller 9.7-inch display. And since screen size is measured diagonally, the difference in screen sizes is rather significant. The Panasonic slate has an effective 230ppi while the Retina iPad has a ppi of 264.
Given the power and the massive screen size, running the tablet on battery power will deplete the battery in two hours, according to a rep from the company.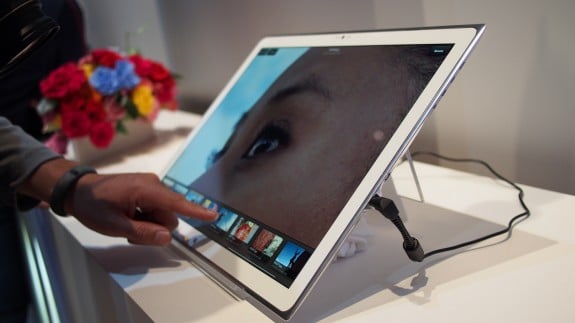 The tablet will also support a digitizer as well, so it will be great for professionals such as CAD drawers, engineers, architects, graphics designers, and those who need a large digital surface to write or draw on.
Pricing isn't known yet, and Panasonic doesn't have a firm delivery date for this conceptual prototype. The company says that it hopes to commercialize the tablet and deliver it by the end of the year.