UltraMobileGeek: UMPC Entertainment Demo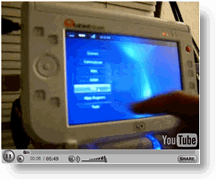 Hehe. I love it when people just decide to have fun.
Thoughtfix, the "UltraMobileGeek", has done a pretty cool demo of just having fun on his TabletKiosk eo v7110. With a nice soundtrack, he spends a bit of time with the following:
Fun to watch. Go ahead, take 5 minutes and check it out!

As an Amazon Associate I earn from qualifying purchases.