UMID M1 Video Demo of Keyboard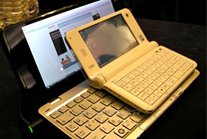 I'm not a fan of thumb typing, but that's just me. I know many rely on flying thumbs on keyboards regardless of the device. The tiny UMID M1 that got demoed at the Mobile World Congress this week is one of those tiny keyboard wonders. Chris Davies of SlashGear has posted a video showing the keyboard in action with I'm guessing his thumbs. Check out the video after the jump.

As an Amazon Associate I earn from qualifying purchases.