UMPC and Home Automation is a natural ….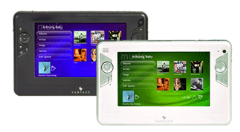 It may surprise you all to know that I am a gadget junkie. Okay, maybe not. I like to act like a plain old guy, but I am reall a geek through and through (and proud of it actually!).
My wife does not necessarily understand the importance of having a gadget within reach at all times to enhance my life (do I hear an amen from the geek audience?). However, I have noticed that when we are watching TV, she does not seem to mind the full surround sound experience on the big screen TV which I control from my position next to her on the love seat with my $300 remote control!
Now my curent dilemma (aside from my HP Z545 Media Center power supply being down, but that is another story), is that I have a number of functions in my home that are not automated (gasp). I actually have to get out of my chair to turn down the lights, turn on the ceiling fan, and turn the heat up because my wife is cold (again). I know, I know, this situation must be remedied!
So…, I have been spending some of my internet play time checking out home automation systems that run on Ultra-Mobile PC's. I have not done a lot of research on this yet, but did come across this product from VANTAGE E.M.E.A., called the Touchpoint 700. It is based on what looks like the PaceBlade Japan OEM UMPC model (alah the TabletKiosk eo i7210 UMPC). Here is a quick blurb on this device from their site:
"It is a 7-inch TFT LCD resistive color touch panel ideal for any home or work environment. Homeowners and employees can enjoy complete room-to-room control of lights, security systems and music. This tablet touchscreen comes with a re-chargeable 3-cell lithium ion battery, which lasts up to 2 hours, with a 3 hour charging time. The TouchPoint 700 design offers ultra- portability with an ultra slim screen, enhancing the look of any room. The TouchPoint 700 offers complete control of any project by not only controlling the lights, but also heating and cooling, fireplaces, home theaters and window treatments. The TouchPoint 700 provides room-to-room control."
Yes, I am having visions of total home control now. I have not done much research yet, and I am sure there are others out there, but I wanted to post this just as a point of interest. When Microsoft first introduced the concept of the UMPC to the Tablet PC MVP's (of which we have 3 on staff at GBM), they made the statement that they wanted this to be a device that would be carried around for many different life functions, and would be just like your cell phone — never leave home without it. Well, I propose that even walking around in our home, the UMPC can take a front seat and help us eliminate a true geek household phenomenon — the multi-remote nightmare!
If you are a dealer of this type of solution, contact us at info at gottabemobile dot com, we'd love to demo your stuff. If you are a user who has something like this happen, we'd love to hear from you as well. More on this as it happens!

As an Amazon Associate I earn from qualifying purchases.