UMPC applications poll on Ultranauts.com, and UMPC GUI design thoughts
–

Ultranauts.com is running a poll on their site about Ultra-Mobile PC applications and the so called "killer app". So what do you think the primary use of one of these devices would be for you? I won't spoil it for you by telling you the trend thus far, but do go on over and cast your vote. But this did get me to thinking (I try and do this occasionally).
I have been wondering about this Ultra-Mobile PC GUI subject lately. Mainly because of screen real estate (or lack thereof), I have been wondering if vendors will really be able to port their applications over effectively. Having done some GUI design as a developer in the past, I can tell you it is a serious issue. People want as much as possible available on a single screen, but they are not willing to make the font so small as to get it sometimes. So what is the answer? New navigation techniques that reuse screen real estate would help a lot. I have played with the idea of writing a radial style menu system for the Tablet PC for a while, but just do not have the time to take on a project like this. A radial menu (picture a pie slice concept with exploding pieces) with large circular buttons would help navigation a lot IMHO. Most of our nav tools now were designed for the mouse, not the pen, and certainly not the finger in mind. Radial menus would provide larger targets, easier to hit with pen or finger. The Touch Pack being included with Ultra-Mobile PC's is a start, but you still run out of big rectangular button space pretty quickly on an 800×480 screen. Here is an example I found :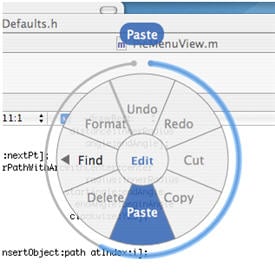 What do you think? Doesn't this make sense for Ultra-Mobile PC?