UMPCFever Meetup and Tons of Mobile Gear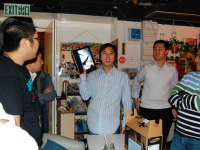 It looks like the folks at UMPCFever really enjoy their meetups. Each month they seem to have a huge crowd of mobile tech enthusiasts, and what's more a huge selection of mobile devices to get hands on with. Thankfully, for the rest of us, they publish a great selection of pictures of the gear that are drool worthy. (So are the shots of some of the food!.) Head over to UMPCFever to check out the pictures, but be warned. You might want to eat first.

This article may contain affiliate links. Click here for more details.