UMPCPortal's Buying Guide for Ultra-Mobiles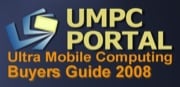 Steve "Chippy" Paine and UMPCPortal have gone to a lot of work (with more to come) to create an Ultra-Mobile Computing Buying Guide. Part I is up with three more parts scheduled for publication. Part I covers a pretty darned good history of small devices and provides some great context for the ongoing debates about how the various categories (MIDs, Netbooks, UMPCs, etc…) fit into the realm of things. If you're looking for a good recap of where things have been, this is an excellent place to start.
Future parts promise specific info on various devices, chipsets, and other details.