UMPCs Too Big? Check Out the CM-X270 Credit Card Sized Comptuer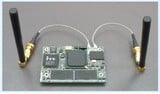 Well if UMPCs, or the Sony UX, or your SmartPhone is still too big, perhaps you should check out this credit card sized computer from CompuLab in Israel. Yes, it is the size of a credit card, but it will run Linux or Windows CE, comes with Intel's XScale processor, two USB ports, a 512mb Flash Disk, WiFi interface, extended graphics solution, PCMCIA controller and more. (Check out the full specs here) These tiny wonders are intended to serve as building blocks in imbedded applications, so I don't think you'll be rushing out to grab one at your local big-box, even though the price starts below $50.
Via Gizmodo

As an Amazon Associate I earn from qualifying purchases.