Uncarrier 4 Rumors Point To T-Mobile Rewarding Switchers With Fee Credit
Mobile buyers looking to switch to T-Mobile's wireless network may have one less hurdle to jump through soon. According to reports, T-Mobile's Uncarrier 4.0 initiative could involve reimbursing customers for Early Termination Fees they incur for switching to the United State's fourth-largest mobile carrier.
Reports from TMoNews indicate that the carrier is planning to entice users, specifically families, with a two-pronged approach to reimbursing them for the fees that are normally associated with switching wireless carriers.
Citing a user who sent in information, it's the outlet's assertion that what's been code-named "Houdini" will reward switchers with $350 in credit when they switch to T-Mobile from another carrier. Switchers will also receive more credit when they trade in that carrier's smartphone. Users will get even more credit for the fees involved in terminating their contract with another carrier once they "submit the final bill" to T-Mobile, allegedly.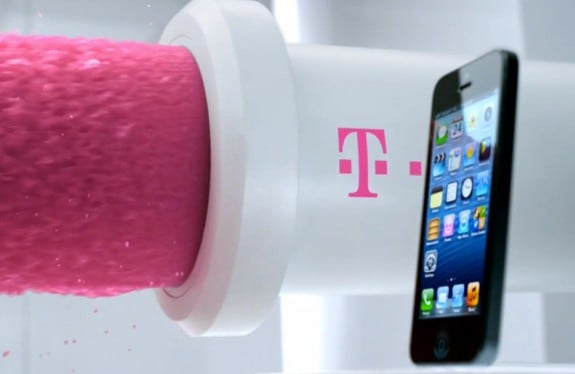 After publishing its initial reports, the outlet received what it says was a new email and an image supporting its earlier assertions. That email indicated that T-Mobile will kick off its Early Termination Fee rebate promotion on January 15th, and that users would need to trade in their old devices and pay for a new device from T-Mobile to qualify.
Allegedly, the maximum amount users could get to cover their cancellation charges and related expenses at their former carrier is $350 for smartphones and $200 for feature phones. Reportedly, the amount of credit users receive is directly related to how much the smartphone they're trading in is worth and how much their carrier's early termination fees are.
Unfortunately, the outlet didn't' share a photo of the internal documentation it received to support its second round of claims. As such, it's a better idea for users to wait for T-Mobile to officially announce their plans before abandoning their contract with a rival wireless network.
As of now, reports differ on whether users will see the fee reimbursed to them in the form of a T-Mobile bill credit or a rebate. TMoNews' story cites both.
Still, it's not hard to see why such a deal would be huge for would be switchers. Though, T-Mobile already offers some of the lowest priced wireless calling and data services around, switching to T-Mobile before a two-year contract is up could be punishing on a family's finance.
For example, Sprint charges users up to $350 for terminating their contract early. The carrier does reduce that fee to just $100 for anyone who cancels within the last five months of their contract's official end.
Read: What Will T-Mobile Announce at Its Uncarrier 4 event?
Still, that's a lot of money standing in the way of users switching to T-Mobile's network. If T-Mobile is successful users who are fed up with their carrier's contracts and upgrade timing could flock to the carrier.
So far, T-Mobile has only confirmed that it has plans to make Uncarrier related announcements in the near year.

As an Amazon Associate I earn from qualifying purchases.