Uncharted 4 Pre-Orders: What You Need to Know Now
Uncharted 4: A Thief's End will mark the start of a very big year for Sony's PS4 video game console. In fact, 2016 could end with PS4 riding Uncharted 4 and more releases to a huge lead over other living room gaming platforms.
Scheduled for release in roughly a month, Uncharted 4 is the first time the adventure game has been created specifically for the company's current-generation console. Naturally, with a jump in technology comes better visuals and new ideas for gameplay. There's also the story. Having retired from treasure hunting, Nathan Drake is lured into another adventure. This time he and his team are after a pirate treasure that has alluded other hunters for centuries. Teased as the end of an era, many suspect that Uncharted 4 might be the end of Drake's time with the series.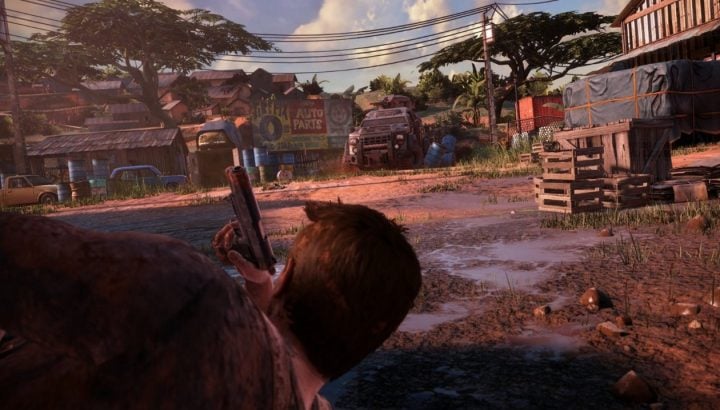 Uncharted 4 pre-orders are just now kicking into high-gear. Here's what you need to know about them ahead of next month's official Uncharted release.
Uncharted 4 Release Date
Admittedly, the wait for Uncharted 4 has been long. Sony originally planned to use the game as a tent-pole launch for the PS4's holiday season. Uncharted: The Nathan Drake Collection was forced to fill that void after Naughty Dog confirmed it would need more time to get the game just right. The game was delayed again earlier this year, this time to account for a worldwide launch and the need to print discs for everyone.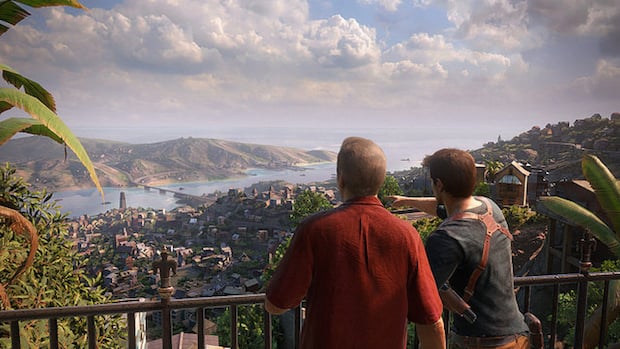 The Uncharted 4 release date is officially May 10th. On that day anyone who purchased a digital version or disc copy of the game will be able to play worldwide. That's a bit different from the slightly region specific Uncharted 4 release that was originally planned.
Uncharted 4 Editions
Like every major video game release, Uncharted 4: A Thief's End has a few different options for gamers to choose from. Which one is perfect for you depends on how much you're willing to spend and how many extras you want.
A base  Uncharted 4 pre-order costs $59.99, whether purchased as a physical game or a digital game.
Uncharted 4: A Thief's End Special Edition costs a bit more at $79.99. The version of the game includes a special SteelBook case, a 49 page art book, a sticker sheet and some points to use in the game's multiplayer experience.
For the truly hardcore fans, there's Uncharted 4: A Thief's End Libertalia Collector's Edition. This version of the game comes with a 12-inch statue of Nathan Drake, a Steelbook case, 48 page hardcover art book and a sticker sheet.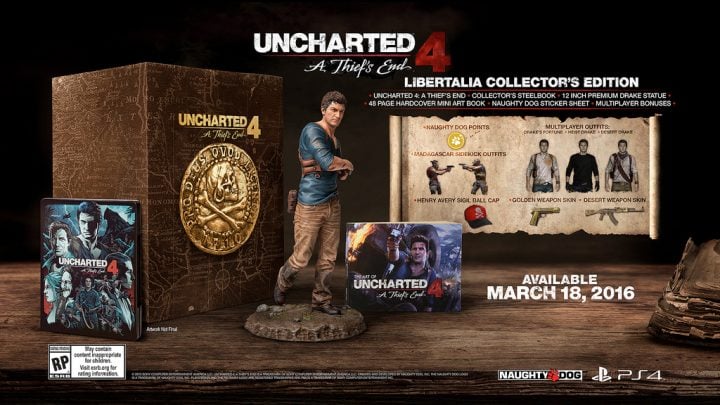 Also included are some digital add-ons. There's Uncharted Points, Madagascar Sidekick Outfit, Henry Avery Sigil Ball Cap, three multiplayer outfits, Golden Weapon Skin and the Desert Weapon Skin. Getting this version of Uncharted 4 isn't cheap, with it costing $119.99 to pre-order.
With the cheaper versions of the game, you should be able to skip past placing an Uncharted 4 pre-order. Especially, if you aren't too thrilled about getting a Drake's Fortune Outfit, Uncharted Points or a Golden Weapon Skin. It seems pretty unlikely that retailers will run out of basic or Special Edition copies of Uncharted 4.
What users should be worried about are pre-orders for the Libertalia Edition version of the game. collector's editions with physical extras usually go fast; they're sometimes sold out before a game even reaches launch. Call Best Buy and GameStop to see if they still have any Uncharted 4 pre-orders available. You'll have to put something down on the pre-order, but giving up a little money now is better than getting to the Uncharted 4 release date and not having the version you want.
Uncharted 4 Pre-Orders Extras
Most video games come with pre-order extras, giving you some reason to rush out and pick up a copy of the game ahead of everyone. Uncharted 4 is no different.
Everyone gets the Drake's Fortune Outfit, Golden Weapon Skin and Uncharted Points
GameStop Gives users the Phubra Dagger Taunt & Multi-Player Booster Pack
Best Buy has a Pirate Sigil Coin for Uncharted 4 pre-order purchases that visit its stores.
Target & Wal-Mart aren't showing any pre-order extras beyond the Fortune Outfit and weapon skin that all other buyers of the game get. The PlayStation Store is now taking Uncharted 4 pre-orders for its digital versions too.
Uncharted 4 Accessories & Bundles
When you're placing an Uncharted 4 pre-order remember to set aside some cash for the game's special edition accessories. Some of them are available right now.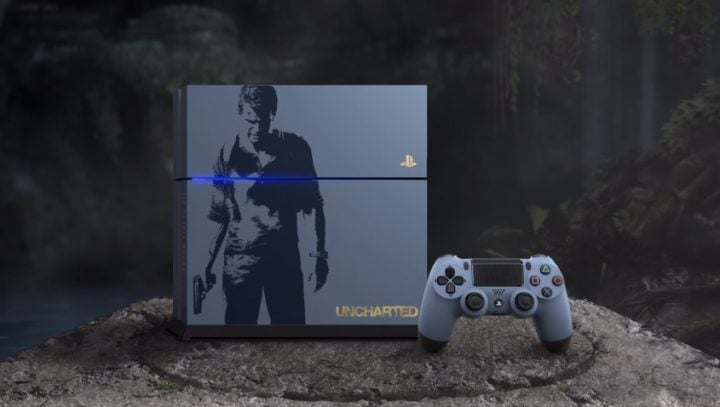 The Uncharted 4 DualShock 4 Wireless Controller in gray costs $64.99 and is available at GameStop Right now. So is the $99.99 Limited Edition Blue Gray PS4 Gold Wireless Headset. Launching on May 10th along with other versions of the game is the PS4 Limited Edition Uncharted 4 500GB Bundle. The $399 console comes with a copy of the game, a Blue Gray painted PS4 and 500GB of storage space.
Good luck with your Uncharted 4 pre-order.