Uncharted The Nathan Drake Collection Leaks Ahead of E3 2015
It seems video game developer Naughty Dog and Sony are planning a giant refresh of the long-running Uncharted series of adventure games ahead of the Uncharted 4: A Thief's End release. A storefront has leaked Uncharted: The Nathan Drake Collection ahead of an official announcement.
The Uncharted: The Nathan Drake Collection leak happened last night. In a picture of the leak shared to NeoGaf we see a stylized image of Nathan Drake looking into the beyond. Ironically, the storefront responsible for the Uncharted: The Nathan Drake Collection is none other than the PlayStation Store itself, which all but confirms the game is coming. The image was only available for a short time and disappeared once word of the leak began to spread.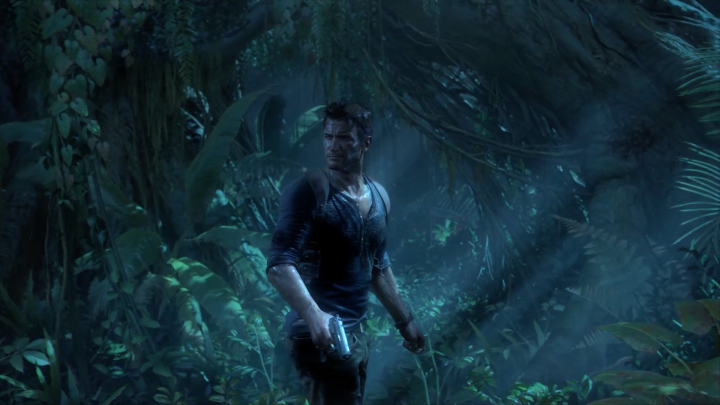 Later Naughty Dog creative director Neil Druckmann took to Twitter and confirmed the leak was genuine. According to Druckmann, we should have more news about Uncharted: The Nathan Drake Collection sometime today. He says that the image seen in the PlayStation Store leaked "a few hours too early."
Well… that hit a few hours too early. See you in the AM. G'night y'all.

— Neil Druckmann (@Neil_Druckmann) June 4, 2015
We're still waiting for complete confirmation. There's no post on the PlayStation Blog about Uncharted: The Nathan Drake Collection, though clearly we'll see one in the next couple of hours. Really, the name confirms most of what players need to know.
With backwards compatibility an afterthought for this console generation, many developers have tried to attract a new generation of gamers with updated releases of their older games for the Xbox One and PS4. Typically, these updated releases are the same game that was available before, but with better graphics and maybe bits of new story. Often times, updated releases are an easy way for those who loved a game's story or multiplayer to relive the magic. Microsoft boosted console sales last year with Halo: The Master Chief Collection,  For example, Uncharted 3 isn't available on the PS4 natively; it was first introduced on the PS3. a huge anthology that includes all of the Halo games to ever include that series' protagonist, Master Chief John 117. Buying Uncharted: The Nathan Drake Collection to relive the magic is easier than having to hunt copies of all of the down a PS3 and buy each game.
Remastered collections are a great idea when there's no backwards compatibility to be found, but that's not necessarily the case with the PS4. Sony spent most of last year rolling out a new cloud gaming service called PlayStation Now. PlayStation Now lets users stream video games directly from Sony's servers on-demand. To the user at home, it feels like they're playing on their console. Really, Sony's servers are doing all the hard work and then sending that content over an internet connection back to the user's PS4. At first Sony charged users for blocks of time when renting from PlayStation Now. Earlier this year it rolled out an unlimited streaming option that costs users $20 a month.
PlayStation Now is relevant here because Uncharted was among the first games to be added to the PlayStation Now streaming library. As such, it's technically available to anyone and everyone with a PS4 and an internet connection already, somewhat mitigating the need for a dedicated repackaging. It is worth noting that folks who purchase Uncharted: The Nathan Drake Collection don't have to worry about maintaining an internet connection or paying Sony more money over time to keep streaming the game.
Uncharted: The Nathan Drake Collection could be the key to Sony propping up sales of the PS4 through the holiday season. Originally, Sony and Naughty Dog planned to release Uncharted 4: A Thief's End this holiday season to take on the Xbox One and Microsoft's Halo 5: Guardians. This spring the two confirmed that Uncharted 4 wouldn't be coming until 2016, missing that original holiday launch window.
Updated
Sony has confirmed Uncharted: The Nathan Drake Collection is launching on October 9th. It'll add a picture capture mode and high-definition graphics. Those who pre-order the game now get character skins and an iconic weapons pack free of charge.