Une Bobine: Incredibly Versatile & Flexible iPhone Cable
Building a better iPhone cable isn't easy, but Jon Fawcett and [Fuse]Chicken have invented a better iPhone cable — the Une Bobine.
Une Bobine, French for coil, is a flexible gooseneck iPhone cable that keeps the iPhone in an endless number of positions at home, at the office and in the car.
One of my favorite parts about this cable is that it works plugged in or as a stand wherever it's needed.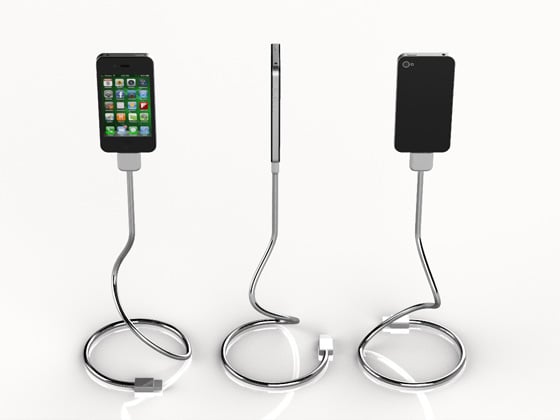 The Une Bobine cable is capable of twisting and holding shape to suite a variety of needs including;
Facetime calls
Tripod for iPhone
Easy monitor level iPhone stand
in-car iPhone GPS holder
Wrapped around anything at hand
Check out the Kickstarter video below to see the many applications of the Une Bobine iPhone cable, which has just surpassed 200% funding with 36 days to go.
Une Bobine charges and syncs the iPhone when connected to a computer, and can charge from any USB port. The cable is sturdy enough to support landscape mode, which is a nice touch for photographers and anyone who wants to use this in their car.
I'm backing this project because it looks like a perfect way to charge my iPhone in the car while keeping it within reach for pausing and playing music. You can see an example of the Une Bobine in use in a car below.
If you're a fan of Une Bobine, but aren't ready to fund it on Kickstarter, why not vote for Une Bobine in the William McShane Fund, a contest that provides startup funding and a retail launch in Brookstone stores.
Kickstarter funding for Une Bobine starts at $25 for one Une Bobine cable, and funding runs to June 15th.

This article may contain affiliate links. Click here for more details.