Unibody Low Cost iPhone Rear Cover Spotted in Green
The low cost iPhone that's been rumored to debut alongside Apple's flagship iPhone 5S this fall has been spotted. The less expensive smartphone model for late 2013 has now been eyed with an iPod Touch-like design, a green hue, and rounded corners.
From the images posted on Ubergizmo, it's still difficult to gauge what material is used for the glossy green iPhone construction, but earlier rumors suggest that Apple may turn to polycarbonate, like that employed on the iPhone 3G and iPhone 3GS, to save on costs, reserving its aluminum construction for the high-end flagship model. If true, what we're seeing in these leaked images appear to be a plastic, polycarbonate iPhone that employs a unibody construction.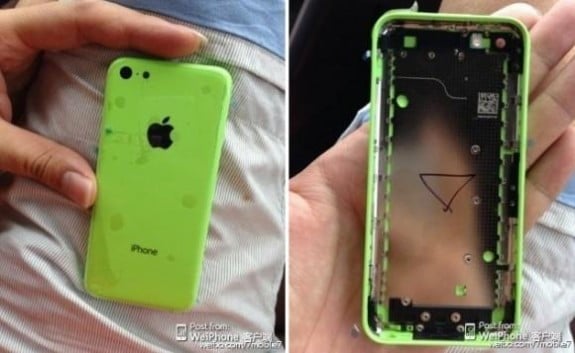 Additionally, it seems that Apple is also using metal for the chassis as a form of reinforcement to create a stronger structure for the phone, as seen from the underside of the rear casing.
Overall, the design of the case looks very similar to the iPod Touch with straight edges, subtle curves, and rounded corners. We can glimpse from the photos that Apple will have a rear camera, a single LED flash, and a microphone hole in the back that's positioned between the camera and the LED flash unit.
This is different from the iPhone 5S, which will have dual-LED flash to hopefully capture brighter images in dark environments.
This looks to be a pretty sleek design. Given it's attractive design and color choices, it's unclear what impact the lower cost iPhone will have on Apple's product line. Likely, there will be some cannibalization of flagship sales as users who want some color flare may move to the lower-cost units, based on design, color customization, and cost alone.

As an Amazon Associate I earn from qualifying purchases.