United Airlines Now Offers Video Streaming on iOS Devices
One of the rituals that many a mobile warrior undertakes to survive the tedium of air travel is to load up a mobile device with video content to watch while a flight is in the air. The recent relaxing of rules about turning mobile devices off during take off and landing has made it even easier in some circumstances to buckle in and tune out while preparing to take off. United Airlines has added a twist for its passengers and made good on a February announcement that will allow iOS device users to now stream the same video selections that are available on seat back displays.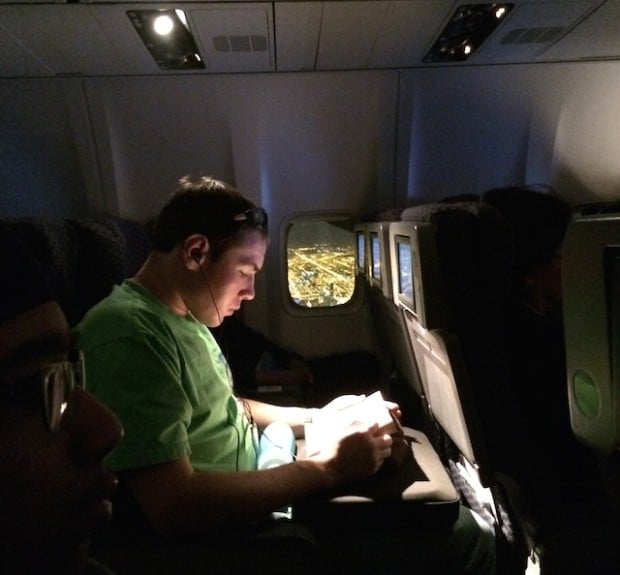 With an update to the United Airlines iOS App, users can now view a selection of over 150 movies and 200 TV shows directly on their iPad or iPhone on some flights. The service is being rolled out as free, though it is sponsored by MileagePlus® Explorer Card, which could mean that it will eventually be a paid service for all or certain classes of passengers. It is available on a limited number of United aircraft at launch, specifically the Airbus A319, Airbus A320, Boeing 747-400 and select 777-200 aircraft with other aircraft getting the service in time.
United says that the service is in the works for Android devices that should be unveiled later this year. Non-iOS users can access the same service via a laptop with a browser plug-in, although United says some content will not require the plug-in. According to a United blog post that was last updated on March 17th, users can access the content after updating or downloading the iOS App to their device. The blog post also recommends that users charge up their devices fully, although it does say that all aircraft that offer this personal device entertainment will be equipped with power outlets.
What's unclear so far, but seems likely, is whether or not users will have to pay for WiFi access the service. United flights that offer WiFi connectivity do require a fee to connect to WiFi. Given how airlines have changed their pricing and fee structure to charge specifically for most services it seems likely that the user cost will be for connectivity with the viewing perhaps offered for free. This does seem like a move that could lead to the end of free movie viewing while in the air. Theoretically it could bring more paying customers to United's WiFi services.
Other airlines offer similar amenities including Lufthansa and Virgin Australia. Hawaiian Airlines will rent users an iPad mini for their inflight entertainment or connectivity needs. The Lufthansa and Virgin Australia service relies on onboard servers from BroadConnect to deliver content to an App on iOS or Android devices instead of WiFi. iPads and other tablets have become near ubiquitous appendages on flights and in airports as passengers seek to remain connected for work or entertainment while enduring the waiting and/or travel time, although laptops are still just as visible a presence.
As there is no definitive word on pricing to access the service via in-flight WiFi, and the video viewing is certain to contain commercial advertising for United, if not other interests, it will be interesting to see if mobile device users will opt-in to this service instead of the usual ritual of making sure they have their own video content pre-loaded on devices prior to heading to the airport. While in-flight WiFi services have been a boon to many mobile warriors, there are vagaries within those systems that have also yielded complaints when the WiFi service does not function correctly or too many users are clogging up the networks. For those wishing to view video content while waiting in the airport or before a flight takes off, pre-loading video content will certainly still be the way to go.
Those flying United Airlines who don't use the App can download it here. Those with the App should see it update today.

As an Amazon Associate I earn from qualifying purchases.