Universal Apps Trickle into the Windows Store to Save You Money
Microsoft only announced that it'd be introducing Universal Windows Apps at its BUILD 2014 conference earlier this month, but already users are starting to see them flow into the Windows and Windows Phone Store.
Updated listings for Halo: Spartan Assault and Skulls of the Shogun appeared overnight, with both of their pages now indicating that users can expect to purchase them once and have them available on their Windows Phone and Windows tablet, notebook or desktop.
Games aren't the only ones getting some love. Xbox Music and Xbox Video also now qualify as universal apps. That development is slightly less exciting when you consider that Microsoft doesn't require users to purchase those apps anyway. Still, it's a step in the right direction and more Microsoft-made apps are sure to follow in the coming weeks and months. Presumably, apps made by other developers will follow too.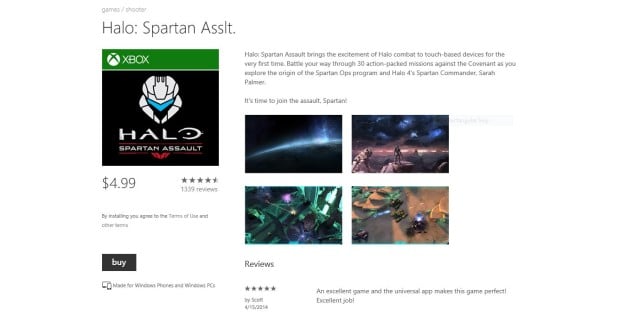 Downloads that are universal have a small indicator underneath their Buy button that says "Made for Windows Phones and Windows PCs" in the Windows and Windows Phone Stores. The trick is simple, Microsoft wants users to understand that its consumer products will work together, especially since they're made by the same company. This new unified system makes apps a Windows-wide offering for users, and removes a big advantage that Android and iOS had over Windows. Both of those platforms allowed users to purchase apps for use on both their phones and tablets. Windows Phone and Windows users were forced to purchase the same games and apps twice. For example Halo: Spartan Assault would have cost users $4.99 on a Windows Tablet and a Windows Phone, each.
In reality, Universal apps are sort of like a mirror trick. Behind the scenes they are two separate apps, however Microsoft has unified its backend so that purchasing a version of an app on one of their platforms unlocks another version on the other. For now, developers still have to submit separate apps, but new changes to Windows Phone in Windows Phone 8.1 will allow developers to create apps for both platforms in the same environment.
Read: Microsoft Universal Apps Come to Windows, Windows Phone and Xbox One
That could mean that Windows Phone and Windows users are in for less of a wait to get big name applications since developers can create mostly one app and offer it in both of Microsoft's stores. Again, that's a strategy that worked well for Apple's iPad.
The Windows Phone 8.1 update also enables settings sharing across multiple devices. That means Windows Phone and Windows 8 apps could also sync settings so that a user's information is always available wherever and whenever they need it. It's a bold idea, one Microsoft will need to push developers to embrace.
In retrospect, Universal Apps may be an even bigger deal for Windows than it was for the iPhone and iPad. Both of Apple's devices run iOS, the mobile version of OS X that Apple created specifically for the first iPhone and later expanded to include the iPad. Apps purchases are interchangeable between those two, but a big part of Apple's ecosystem is left out in the cold: the Macintosh. Purchasing an app on the iPhone doesn't unlock another version in the Mac App Store. For that, users are still required to pay the developer at least twice.
Microsoft may have received no end of criticism for introducing the Start Screen in Windows 8, but the strategy seems to be working. Its unique approach of using the operating system on tablets and devices of an elk virtually ensures app compatibility across its entire portfolio. Neither Apple nor Google are even close to offering that same level of convenience to users across their portfolio of software and devices. It could be a huge win for Microsoft if it ever decides to actually push the feature more in advertisements and messaging about its tablets and smartphones.
Of course, that's only if universal apps are as popular with developers as they'll be with consumers. App makers could resent Microsoft forcing them into offering their apps across multiple devices with one purchase. That could lead many to not adapt their apps for universal formatting. It's unlikely, but it's certainly a possibility.
It's also possible that developers will switch to making universal apps and then double the price they charge users. App prices in the Windows Store are sometimes relatively high, a game similar to Halo: Spartan Assault would probably cost iPhone and iPad users $2.99 instead of $4.99.
For now, the immediate advantage is that gamers can finally get their favorite Xbox Live games on the cheap. If you've purchased one version of an Xbox Live game, it's probably a good idea to keep checking the store to see if that game is available as a universal app. If it is, you should be able to download the other version on your Windows Phone or Windows device without paying again.