Unlimited Monster Strikes Again…This time it's Skype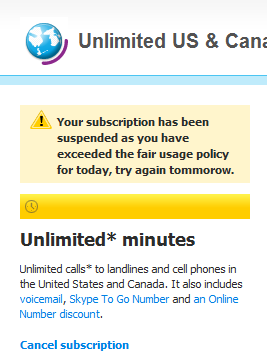 Last week I wrote about how tech companies bend definitions of words in marketing campaigns. Today I learned that Skype's 'unlimited' plans are in fact limited.
HP CTO Rahul Sood has been a Skype 'unlimited' customer for  years and today he had a conference call that lasted for four hours. When he tried to make another call he was greeted with an error message that asked him to try again tomorrow.
Skype offers a number of 'unlimited' calling plans, including one that offers calls within the U.S. and Canada for $2.99 per month. Additional options and calling geographies can push the price up to $14.99 per month or so.
As a lot of other big companies do, Skype emphasizes UNLIMITED when it sells its subscriptions. A link from the subscription sales page links to another page that outlines Skype's definition of unlimited.
Calls to phones and mobiles and Skype To Go* calls are included in your subscription subject to a fair usage limit of 10,000 minutes per user per month, with a maximum of 6 hours per day. Also, no more than 50 different numbers in total can be called per day. If your subscription includes more than one country, then this is the total amount of minutes allowed per month on your account, and is not a separate limit for each country.
Sounds like quite a few limits to me. Now most people won't run up against those limits during the normal course of a day (or month), but this is yet another example of a company being less than straight forward. I'm sure Rahul and other Skype users would gladly pony up a few extra bucks for a truly unlimited plan.
In the meantime, he should give Gmail's new calling feature a shot.
Are there any services or companies that have shortchanged you with 'unlimited' offerings?

This article may contain affiliate links. Click here for more details.