Unlocked iPhone 4 Goes on Sale at Apple for $649
There had been a rumor flying around stating that Apple would begin selling an unlocked version of the iPhone 4 at some point this week and sure enough, an unlocked version of the device has appeared on Apple's website with a steep price tag of $649.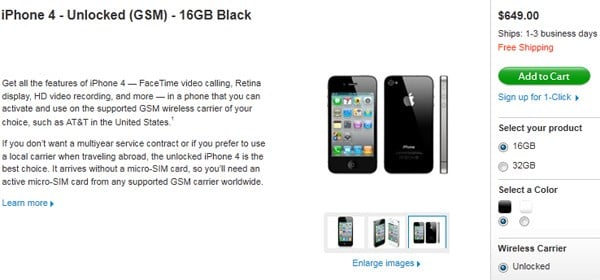 For those of you in the United States, that price tag is probably going to be a bit steep for a phone that's only going to work on AT&T's 3G network. However, if you travel around a lot whether it's for business or pleasure, an unlocked iPhone 4 will allow you to switch out the microSIM as much as you want.
Get all the features of iPhone 4 — FaceTime video calling, Retina display, HD video recording, and more — in a phone that you can activate and use on the supported GSM wireless carrier of your choice, such as AT&T in the United States.1

If you don't want a multiyear service contract or if you prefer to use a local carrier when traveling abroad, the unlocked iPhone 4 is the best choice. It arrives without a micro-SIM card, so you'll need an active micro-SIM card from any supported GSM carrier worldwide.
Now, if you're looking to get your hands on one, it's going to cost you a pretty penny. A 16GB iPhone 4 is going to cost $649 and if you want to get a 32GB iPhone 4, you'll have to cough up $749. If you want the black model, Apple lists it as shipping out in three days while the unlocked white iPhone 4 is going to take a little bit longer and will ship out in three to five days.
If interested, you can find the unlocked iPhone 4 online at Apple's store right here.
Via: Engadget

As an Amazon Associate I earn from qualifying purchases.