Unlocked Moto G Now Available Directly from Motorola
Users can now pick up the Moto G, Motorola's high-end smartphone with a low-end price tag, online.
Motorola began taking orders for the Moto G this morning. The device's $179 price tag gets users a 4.5-inch high-definition display, a quad-core Qualcomm Snapdragon 400 processor, 1GB of RAM and 8GB of on-board storage. The Moto G also includes two cameras, one front-facing 1.3 megapixel camera for taking Google Hangout and Skype video calls. The other camera is 5 megapixel camera located on the back of the device.
To be clear, these are pretty impressive specifications for a device that only costs uses $179 without a two-year service agreement of any kind. Really, the only compromise is in mobile data speeds. The Moto G doesn't support LTE data networks of any kind.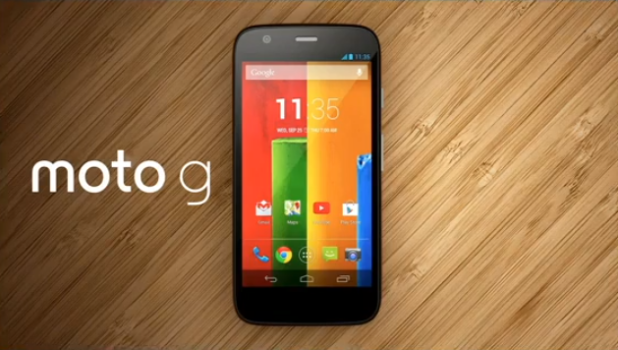 The Moto G's order page indicates that it'll begin shipping the Moto G Monday, December 2nd. The Moto G comes in two different hardware configurations. The Global GSM model allows users to connect with UMTS and HSPA+ data networks when they're travelling abroad. Motorola says that the second version, dubbed US GSM, has been "optimized to work with 3G networks when operating inside the United States.". Unfortunately, that optimization means that users may find that this version gets spotty reception in countries other than the United States.
Users can upgrade the built-in storage of the Moto G in either version to 16GB. That storage upgrade will cost them $199 instead of the device's standard $179.
As the Moto G is unlocked, users who purchase the device may also need to pick up a SIM card from their mobile carrier of choice. Depending on what type of phone they have, they may also be able to use the SIM card that's in their current mobile phone.
Read: Moto G Confirmed As a Contract-free $179 Premium Smartphone for All
Originally, Motorola announced that the Moto G wouldn't arrive in the United States until early 2014. Motorola hasn't shared any official details about which carriers will carry the Moto G in the United States yet. However, recent filings with the Federal Communications Commission in the United States indicate that the device now supports all of T-Mobile's frequencies.

As an Amazon Associate I earn from qualifying purchases.