Unlocked Samsung Galaxy S8 Deal: Get $300 Off with Trade-In
Samsung is chopping $300 off the Galaxy S8 and Galaxy S8+ with a qualifying trade in for a limited time.  This deal includes a $150 discount for all shoppers, plus an additional $150 off for those willing to trade in an old iPhone or Android phone. Samsung extended this deal for a limited time so you can still get in on this offer.
The unlocked Galaxy S8 has a $724.99 MSRP, which means the discount drops the price down to just $424.99.  If you don't have the cash to pay for the entire phone up front, Samsung allows buyers to finance the Galaxy S8 for just $17.71 per month. The deal includes 0% APR, which means you won't pay any additional fees for financing the Galaxy S8.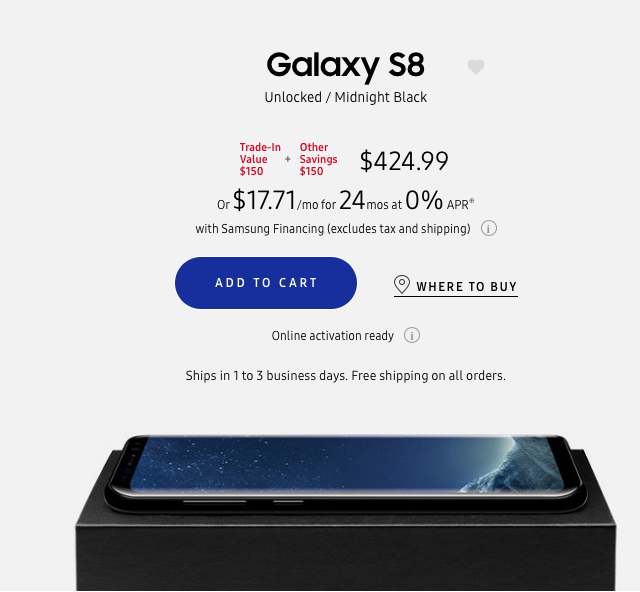 The Galaxy S8+, which has a larger display, is $524.99 after the $300 in total savings. Those choosing to finance the Galaxy S8+ can do so at $21.87 per month.
While there are plenty of Galaxy S8 deals through carriers, buying an unlocked phone directly from Samsung means that you'll have the flexibility to switch carriers at any time. Unlocked phones are especially useful for those who like to switch carriers to take advantage of new promotions. Unlocked phones also offer more flexibility to people that travel overseas, where they can buy a local SIM card rather than paying steep roaming fees.
Samsung just started selling the Galaxy S8 and Galaxy S8+ in Coral Blue in the United States. If you want your phone to stand out from the crowd a bit, you should opt for it.
To take full advantage of this deal, you will have to turn in a working smartphone. The $150 credit is a flat rate, which means you'll get a better deal if you turn in an older iPhone or Android phone, such as the iPhone 5 or Galaxy S6. The returned phones can show normal wear and tear, but the displays must be in good shape. The phones also have to hold a charge.
You can visit Samsung.com to get this deal.