Untethered iOS 5.1 Jailbreak is Still Weeks Away
Apple's latest iOS update, iOS 5.1, still doesn't have an untethered jailbreak and it appears that that functionality is still a little ways off as Pod2g has confirmed that the jailbreak as at the very least, still weeks away.
So, it seems that progress is being made but those looking to get their hands on that untethered jailbreak tomorrow will have to temper expectations.
Just a few weeks ago, Pod2g, a member of the iOS Dream Team, announced that work had begun on a jailbreak for the iPhone 4S, iPad 2, and the new iPad and that he was "working actively on finding vulnerabilities in 5.1."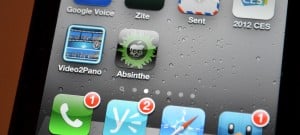 Currently, there is a tethered jailbreak available to some iOS 5.1 users. A tethered jailbreak requires users to re-install the jailbreak software every time the phone is powered down or it shuts off. It might not sound like much but it can definitely be a headache.
An untethered jailbreak does not have this limitation and therefore it's a much more desirable piece of software.
As it stands, the only iDevice users that can jailbreak their phone are those not running an A5 or an A5X chip. So that means iPhone 4S and iPad 2 owners are out.
Those who own the new iPad will be happy to know that work has begun on a jailbreak for that device, but it could take some time.
So, at the very least, we're looking at a few weeks before the untethered iOS 5.1 jailbreak arrives for iDevice owners and it's possible that the wait could drag on much longer than that.
We'll keep you posted on any and all updates to the iOS 5.1 jailbreak situation.

This article may contain affiliate links. Click here for more details.