Updated BlackBerry Traffic Allows Users to Select Between Alternate Routes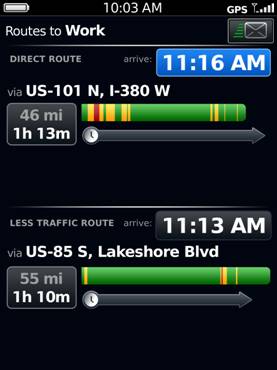 A new update to BlackBerry Traffic will be showing up in BlackBerry's app store known as App World. According to maker Research in Motion, the new update to BlackBerry Traffic will allow users to select between two alternate routes, giving users the option to select the faster and least congested path of travel.
Here are the highlights of the new feature, available on BlackBerry Traffic version 2.0.0.1749:
Select between two routes to a destination, and can use a new traffic view that displays predicted traffic conditions for each route.
Pre-set destinations, such as work or home, or get an ETA to destinations from within their BlackBerry® Contacts, enter an address manually, or find new places using the search feature
Quickly share ETAs with contacts via SMS, email, or PIN message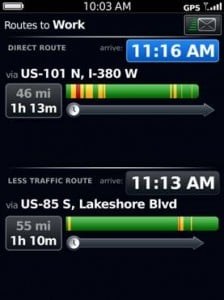 The nice part about this app, versus other apps and GPS navigation software with traffic information that gives users the choice to choose between alternate routes, is that BlackBerry Traffic shows users the best time to leave the house and how long it would take to get to the final destination via the mapping and traffic calculus.
BlackBerry Traffic also identifies the best time to leave and optimizes ETA, by using anonymously collected data, which is crowdsourced from users running the app as well as historical traffic data, to predict ETA with great accuracy.
Blackberry OS 4.6 is required for the latest BlackBerry Traffic, as is a BlackBerry smartphone with GPS capabilities.

As an Amazon Associate I earn from qualifying purchases.