Updated Processor, Display, Cameras Rumored for Apple iPad mini 2 Retina Display
A new leak confirms some of the specs that we've been hearing for Apple's second generation iPad mini launch, which is believed to be coming this fall with iOS 7 on board. According to the leaks, the 7.9-inch tablet will feature a Retina Display with 2048 X 1536 pixels, the same number of pixels that are found on Apple's larger third and fourth generations of full-sized iPad tablet. Additionally, it's now said that the iPad mini will get a big processor bump to include a dual-core Apple A6X processor.
The increase in screen resolution will give the iPad mini a 324-pixel-per-inch resolution, making it sharp and even more pixel-dense than the full-size iPad, which has the same number of pixels distributed over a larger 9.7-inch display.
Additionally, it appears that Apple may be trimming down the bezel even further on the iPad mini 2 with Retina Display. Though MobileLeaks did not specify the source of its intelligence, the Dutch blog posted some renders of the tablet showing that in portrait orientation, the left and right bezels are practically non-existent.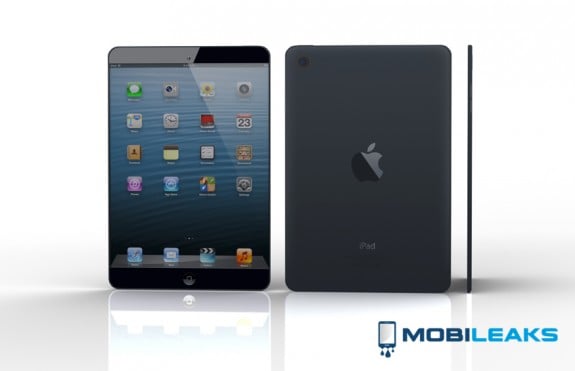 The original iPad mini already has very slim side bezels, and the new successor seems to eliminate the bezel. A set of leaked photos previously only showed off the backside of the iPad mini 2.
The tablet will have an 8-megapixel rear iSight camera and a 2-megapixel front-facing FaceTime camera for HD video calls, according to the leaked specifications. The tablet will be shipping with either 16, 32, or 64 GB of internal storage, meaning that there won't be a 128 GB high storage capacity model that was introduced more recently with the fourth generation full-sized iPad.
And likely to accommodate the higher resolution display and potentially a larger battery, the iPad mini 2 is now said to be growing in thickness just slightly. The device will be 7.5 mm thick, according to the leaked rumor. This would make sense as on the full-sized iPad, Apple did increase the thickness of the device from the iPad 2 to the iPad 3 when the Retina Display made it to the third generation tablet.
It's still unclear how accurate the information reported is, but Apple is widely believed to be introducing a Retina Display iPad mini model this fall.

As an Amazon Associate I earn from qualifying purchases.