Ups and Downs with Slingbox PRO HD. Mostly Downs.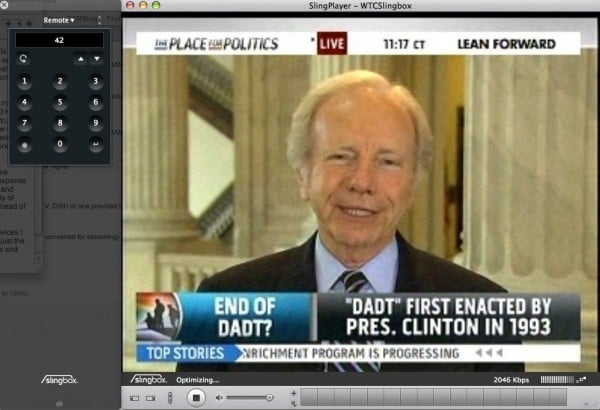 I've been a big user of Slingmedia's Slingbox for some time. I used a Slingbox Pro for some time and had no real issues with the device. I was able to sling video from my home setup to any computer I was using successfully. I've also purchased and used the mobile Apps on Windows Mobile (back in the day) and the iPhone. Recently when Slingmedia announced that it had an iPad version available I thought I'd go that route too, even though it meant purchasing another version of the mobile app for $29.99. Slingmedia charges that for each of its mobile Apps.
Prior to that I was genuinely pleased to use the iPhone version on the iPad and even thought I had to use the 2X feature of the iPad to make it larger enough on the screen it worked well enough. I think I should have stayed with that solution.
In order to use the new iPad version you need to use one of the two newer models of the Slingbox, either the Slingbox PRO HD or the Slingbox Solo. Since I enjoyed using Slingbox before I figured it was time for an upgrade so I sprung for the Slingbox PRO HD.
What I didn't pay attention to and should have thoroughly researched is that SlingMedia and the Slingbox PRO HD will not work well if you have your home theater setup using HDMI cables. There is no HDMI cable on the Slingbox PRO HD. That didn't seem to be an issue, but if you connect your cable or satellite box to your TV with HDMI, don't think you can use the component or composite cables that come with the Slingbox PRO HD to get satisfactory results. Or any other combination of cables for that matter. According to technical support if you are using HDMI cables anywhere along the chain, then you basically are left out in the cold if you want to use the full functionality of the Slingbox PRO HD. "Out in the cold" might sound harsh but the tech support rep I spoke with yesterday when I was trying to figure this all out, told me that HDMI cables caused a real problem. When I finally understood the issue, my response was, "So, I'm basically out in the cold?" His response was in the affirmative.
Singmedia, to my mind, isn't exactly clear on this point up front and I think they should be. Like it or not HDMI is a very good solution for connecting multiple components in a home theater setup. But if you use that solution, you'll not see your video when it comes to slinging media. We all know the cable game is a real racket when it comes to purchasing them, unless you shop for cheaper alternatives online.
The Slingbox PRO HD features do offer a solution if I don't want to change my cables, but so far it is far from perfect one in my opinion. The SlingBox PRO HD comes with its own tuner. That also was one feature I was looking forward to, but not necessarily in this way. Having a separate tuner would allow me to view what I pull down through the cable while my wife might be at home watching something else. This was actually a feature that I liked quite a bit. It enabled me or my wife to program the DVR when away from home. (Side note: If I ever turned on the Slingmedia player when I was at work and she was at home it would freak her out when I changed channels.)
So, what I anticipated as a new benefit, is actually the only way I can use the new SingBox PRO HD, unless I change my cabling system at home. That's an expense I'm not interested in eating. The tuner scans in channels that are available and gives you a remote to change channels, but you loose all of the functionality of having the same features as your remote at home. You can't pick shows ahead of time to record on your DVR. Worse yet, I'm also seeing a noticeably downgraded image on all of the devices I sling media to. On my iMac, the image was much closer to HD quality with just the Singplayer Pro than it is with the PRO HD. That sort of gives lie to the name and branding if you ask me. And before you ask, my system exceeds the minimum specifications that Slingmedia requires for HD streaming.
Yes, the iPad App works as advertised, but I'm seeing roughly the same image quality on that device as I saw using the iPhone App and the earlier SlingBox, so I'm not that thrilled with the investment there either. All in all this "upgrade" has been a disappointment so far. Hopefully future firmware releases and software upgrades will address some of the issues. If not, I may return the Slingbox PRO HD and downgrade to the previous setup.
Very disappointing.

As an Amazon Associate I earn from qualifying purchases.