Urodynamix Develops uroNIRS System Using Motion Computing C5 MCA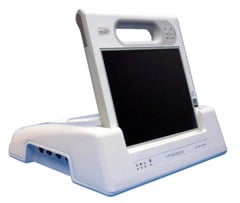 Press release: Motion Computing ®, a leader in mobile computing and wireless communications, announced today that Urodynamix Technologies Ltd. (TSX-V:URO), a Canadian medical device company that develops non-invasive medical technology for large and growing global healthcare markets, is using the Motion ® C5 mobile clinical assistant (MCA) as the platform for its uroNIRS 2000â"¢ Bladder Monitor System.  The C5 was chosen because of its integrated Bluetooth and RFID capabilities, as well as its mobile, lightweight design that is ideal for use in a physician's office setting.
""Urodynamix chose the C5 as a key component of the uroNIRS 2000 Bladder Monitor System because it is clear that it was designed specifically for the healthcare environment," said Barry Allen, president and CEO of Urodynamix. ""The C5's small footprint, full processing capabilities and key integrated features make it the perfect device to support our goal of providing physicians with non-invasive imaging technologies that can be conveniently used in an office setting."
Urodynamix custom-designed a base station for the C5 which serves as the bladder monitoring device.  The C5 fits securely into the base station and is used to display test result information in real time, enabling physicians to immediately discuss findings with patients in the exam room and directly input information into the report.  The C5's integrated Bluetooth technology is used to connect data between the base station and the C5 and the integrated RFID capability enables physicians to easily scan the system's single-use patient sensors prior to each test to enhance patient safety by ensuring each sensor is used only once.
""We are excited to be a key part of such an innovative healthcare solution," said Mike Stinson, Motion vice president of marketing.  ""The C5 used in combination with Urodynamix's unique technology is a great example of how a highly portable device designed specifically for healthcare environments can positively impact the way patient care is delivered." 
The Urodynamix uroNIRS 2000 Bladder Monitor System is expected to begin shipping in the first quarter of 2009.  Used in combination with the C5, it is accessible, user friendly and cost effective and will enable Urodynamix to expand into the larger urology office market where non-invasive, fast diagnostic procedures are needed.
""The support we received from the Motion team was outstanding and made it possible to design and deliver a robust solution in a short timeframe," added Allen.  ""We look forward to continuing our partnership with Motion as we focus our product development efforts across additional target markets." 
The C5, the industry's first MCA developed in collaboration with Intel ®, is a hospital-grade device that is proven in healthcare environments.  Now deployed in more than 4,000 healthcare organizations worldwide, the C5 has proven to enhance clinician satisfaction, improve point of care documentation, reduce transcription error rates, increase clinician productivity and improve clinical documentation accuracy.