US Cellular Offers White Samsung Galaxy S II, Brings More Phones to Prepaid Plans
Today US Cellular, a regional carrier, announced that it now has the Galaxy S II in white, and it has brought back the Samsung Mesmerize.
These phones join the Samsung Galaxy S Aviator (a.k.a. the Droid Charge), which recently launched on US Cellular.
The white Samsung Galaxy S II is the same as the black version of the Android phone that the carrier started carrying months ago. Today it comes in a different color. Both colors sell for $179.99 after a $100 mail-in rebate.
(Read: Samsung Galaxy S II Review)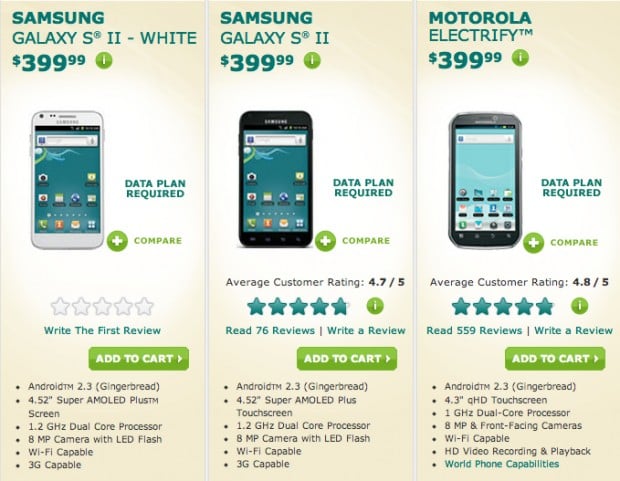 For people who still want a large Android phone but can't afford the Galaxy S II, US Cellular brought back the Samsung Mesmerize. The Mesmerize is a version of the original Galaxy S. It has a 4-inch screen, runs Android 2.3 Gingerbread, and has a 5MP camera. It only has 2GB of internal storage space, but comes with a 16GB microSD card for extra storage.
The Samsung Mesmerize sells for $49.99 with no mail-in rebate. It's a good choice for users who don't want to spend a lot of money upfront for a smartphone, and don't mind having a phone that will likely never be updated to the latest version of Android.
US Cellular also announced a few new phones that are now available for prepaid users. Those phones are the Samsung Galaxy S II, Motorola Electrify, and HTC Hero S. The Motorola Electrify is also known as the Sprint Motorola Photon, and the HTC Hero S is the EVO Design 4G on Sprint.
Both the Samsung Galaxy S II and Motorola Electrify cost $399.99 on a prepaid plan, and the HTC Hero S costs $299.99 on a prepaid plan. They're all fairly expensive, especially when compared to their prices on contract, but for some people the extra upfront cost is better than being locked into a two-year contract.
Of the three phones, the Samsung Galaxy S II is the arguably best overall phone, but the Motorola Electrify has a higher resolution screen which is nice for watching videos. Plus the latter phone has a kickstand and has Webtop, so it can use the Motorola lapdock.