USA Ranks 31st In Broadband Speed According to Speedtest
If there were an Olympics for best broadband speeds than the USA probably wouldn't even be allowed to field a team. According to recent test results from Speedtest.net, the USA is back in the pack, ranking a paltry 31st among countries around the globe. Countries in the Pacific and Europe rank above the USA with Hong Kong, Singapore, Romania, South Korea, and Sweden taking the top five.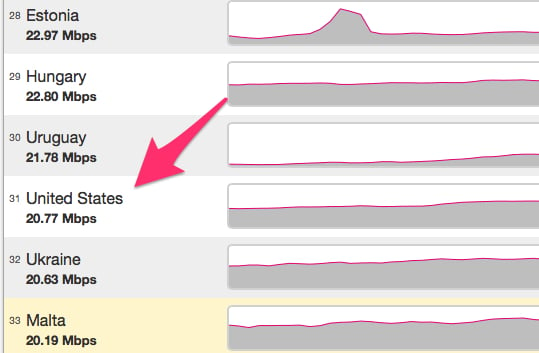 Ookla, the engine behind Speedtest, is largely accepted as a standard for measuring and testing broadband speeds as well as other Web-based diagnostics. Ookla claims its solutions have been adopted by nearly every Internet Service Provider across the globe. The Speedtest results calculate the rolling mean of megabits per second (Mbps) and are updated monthly.

Hong Kong's number one ranking of 71.03 Mpbs is roughly 3.5 faster than the mean listed for the USA at 20.77 Mbps. The Akami State of the Internet report shows the USA ranking as high as 9th.
Keep in mind that many things play into the speed of broadband that users and households see, including geography, politics, and carriers dragging their feet upgrading their networks to keep profit margins high.
Regardless of how you measure it, the fact that the USA lags behind other industrialized nations, and some that might not even qualify as industrialized in the conventional sense of  the word, is a black eye that should be attended to.

As an Amazon Associate I earn from qualifying purchases.