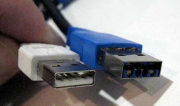 It looks like we're about to hear more about the promise of USB 3.0 as the USB Implementers Forum, a non-profit organized by the companies behind the standard, are getting ready to reveal the final set of specs tomorrow. USB 3.0 is the first upgrade of USB connectivity in eight years and it promises to offer a 10-fold speed increase for transferring data.
One of the keys for mobile computing is that USB 3.0 will be using an interrupt driven architecture for accessing the device connected instead of the current USB 3.0 method of constantly polling for activity. This should mean more efficient operation and of course, better battery life. Also, USB 3.0 equipped computers can charge up to for USB gadgets at a time and do so faster.
We're probably not looking to see devices equipped with USB 3.0 until the end of 2009 or into 2010.
Via Wired