USB Cufflinks Do Double Duty As Flash Drives And WiFi Hotspot
These cufflinks are either the ultimate in 007 gear for the average man or the geekiest cufflinks on the planet. Either way, they're at least dead useful, unlike normal pairs.
Brookstone's polished silver cufflinks each hide a USB drive that offers 2GB of storage and Wi-Fi hotspot capability. It's not clear if they can both do both things or if one is the hotspot and the other the flash drive. Still cool either way.
Something this small isn't going to generate Internet for you like a phone. Instead it connects to a computer and, via a free software download, can re-transmit the machine's Wi-Fi, creating another hotspot.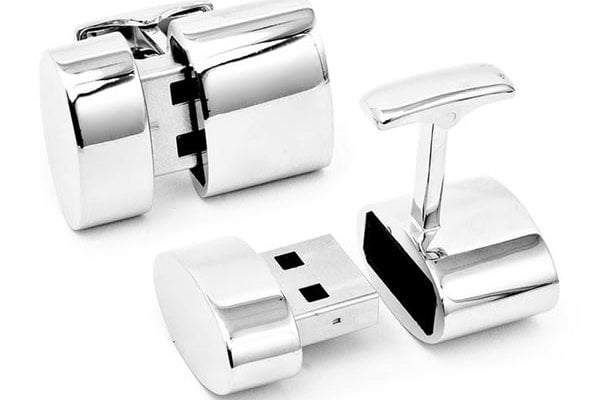 Some newer laptops come with this feature built-in. If yours doesn't, this is an interesting way to gain the capability.
In some hotels this allows you to get around paying for Wi-Fi access on every device you own. And if you have a smartphone hotspot going you can connect more than the 5 – 8 device limit they usually impose.
You can also bring wireless to a space where only a wired Ethernet connection is available, such as the library. Plus, it gives you the opportunity to create a hyper local network for sharing media and files, which can be useful in business settings.
Aside from their technical capabilities the cufflinks look classy enough, though perhaps bigger than the average pair. problem is, if you use them in a business setting you have to take them off and have your cuff flapping around loose. Dilemma!
Brookstore is selling the Polished Silver Oval Wifi and 2GB USB Cufflinks for $249.
Hat Tip: Techland

As an Amazon Associate I earn from qualifying purchases.