How to Use AirDrop in iOS 7
AirDrop is a new feature that Apple added to iOS 7 when it released last month. AirDrop itself has been around for a while, and was introduced with OS X Lion back in 2011. This allowed Mac users to share files with each other without the need to be connected to the internet or a local network. Instead, AirDrop creates an ad-hoc WiFi network between the two Mac computers only, allowing you to wirelessly transfer a file from one computer to another without having internet access.
The same feature just came arrived on the iPhone thanks to iOS 7. If you updated to iOS 7 and don't see AirDrop in Control Center, you're most likely on an iOS device that doesn't support AirDrop. Unfortunately, AirDrop is only compatible with the iPhone 5s, iPhone 5c, iPhone 5, iPad 4, iPad mini, and the 5th-generation iPod Touch. If you do have access to AirDrop, here's how to use it.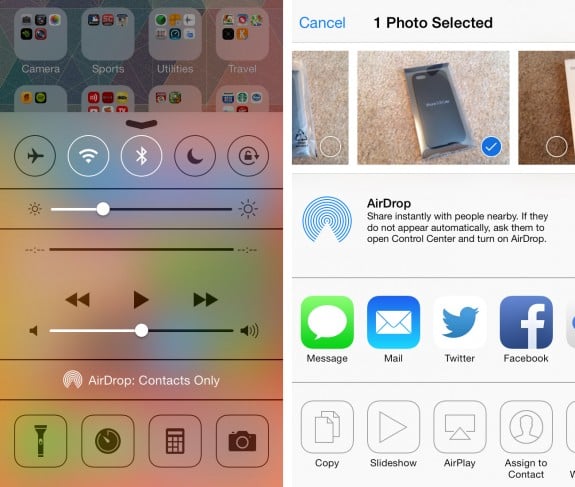 Using AirDrop in iOS 7
To get started using AirDrop, you'll first want to make sure that WiFi and Bluetooth are both turned on. To do this, just open up the Control Center by swiping up from the bottom of the screen. You'll see toggles at the top and symbols for WiFi and Bluetooth; make sure these are glowing white, which means that they're on and ready to go. Then, you'll also find AirDrop in Control Center as well. This isn't actually where you use AirDrop, but merely where you limit who can send you AirDrop files. These choices are Contacts Only or Everyone. This is also where you can turn off AirDrop completely when you don't use it. Alternatively, you can disable Bluetooth to automatically turn off AirDrop.
Once you have defined these sharing parameters, you're ready to start sharing using AirDrop. You can share all sorts of different things, including photos, videos, and even contacts. For this demonstration, though, we'll show you how to share a photo through AirDrop Open up the Photos app and tap on a photo or video that you want to share. Now tap on the Share button in the lower-left corner; this will be an icon that has an arrow pointing up from inside a square.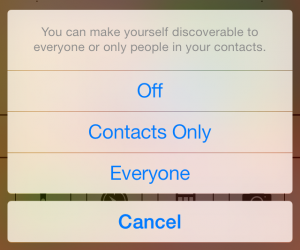 You'll be given a lot of different options, but AirDrop will show up at the top (but below the photo). Whenever someone with AirDrop enabled is nearby, their name and avatar will show up in this little section. Tap on the person whom you want to share the photo with, and they'll receive a notification letting them know that you want to share a photo with them. They'll get a preview of the photo and either accept or deny the request to share. Likewise, you'll receive the same notification if someone shares a photo with you.
Caveats
There are a few downsides to AirDrop, though. As mentioned earlier, it's only compatible with a handful of iOS devices, so while you may have updated to iOS 7, depending on your specific device, you may not be able to use AirDrop.
Furthermore, while AirDrop used to be a Mac-only feature, iOS devices and Mac computers cannot share files with each other over AirDrop. Once the new version of OS X Mavericks released sometime later this year, users will be able to share files across different Apple platforms, but we're not sure when or if Apple will add the support to older OS X versions.
Also, there's a very limited number of iOS apps that support AirDrop; it's mostly Apple's stock apps that support it, but more and more apps should be updating with the feature sooner or later, for which AirDrop will be much more useful when that happens. It remains to be seen what restrictions Apple will impose on app developers, but we're excited about the expansion nonetheless.