RDTX-Pro Radiation Detector from Scosche Lets Your iPhone Hunt Hotspots
iPhone users worried about radiation now have a solution to keep them informed thanks to accessory maker Scosche. The RDTX-Pro plugs into the dock connector on your iPhone or iPod Touch and through a free app informs you of how much radiation, if any, is present in your location.
The battery powered device also works independently of the phone as an alarm and lasts about 96 hours according to the company. Once the alarm sounds plug it into the phone. When connected it uses the phone's battery and sends the data collected to a free app which has a meter to show you how much radiation was detected by the device. You have  both a radiation detection alarm and, when connected to an iPhone running the app, you have a meter.
The app's meter shows three color-coded levels: Green=safe, Yellow=elevated and Red=dangerous. For more advanced users the info offers detailed measurements. You can use the app to share your information with anyone around the world via the Internet. The info can be shared on a map, through Twitter or Facebook, and via email.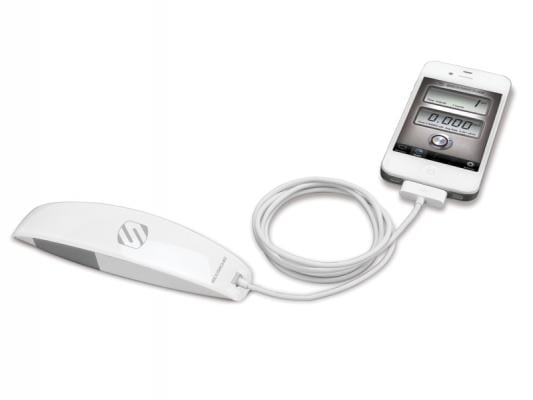 The detailed information that the app displays includes:
Detailed measurements for the advanced user
Counts per Minute (CPM)
Time Since Reset
Total Counts Since Reset
uSV/h (Micro Sieverts per Hour)
Dose Received
Average uSV/h levels since reset
The device costs a whopping $349.99 directly from Scosche. The app will be a free download from the Apple App Store.
For every device sold, when it ships in September, Scosche will donate $10 to charities related to the Japan earthquake and Tsunami relief effort.