Use Solar Power To Juice Up Those Mobile Devices
Earthtech Products offers a solar charging solution for those looking to juice up with some energy from the sun. The Solar Laptop Charger and Portable Power Kit will not only charge up a laptop, but it also looks like it'll charge up just about anything you can plug in. According to the specs you can power a 25watt laptop for about 6 hours. You'll need about 11–12 hours for to fully charge up the powerpack and the entire kit runs $478.95. But you can purchase the XPowerPack 300 Plus or the Sunlinq Portable Solar Panel separately for smaller chunks of dough.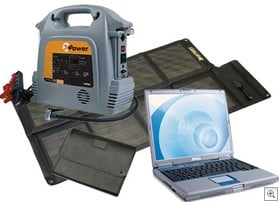 Via Gizmodo

As an Amazon Associate I earn from qualifying purchases.