Use Your iPhone to Secure Your Gmail Account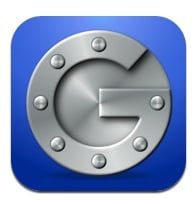 If you use a Gmail account it's easy to make your Gmail login more secure with your iPhone and two factor authentication.
With all the information we keep in our Gmail accounts, the connections we have with others and the possibility of a hacker to scam friends and family it's important to do all you can to secure your account.
A good password is a start, but two-factor authentication is highly recommended. The secure method of accessing your Gmail account includes your password the first factor, and a second thing you have. In this case the second factor is a PIN generated on the Google Authenticator App.
Without this PIN, hackers cannot access your account even if your password is compromised.
This video from Google explains what 2-step verification is and how it helps secure your Gmail account.
One of the reasons people don't like 2-step verification is that it adds another process to logging in to Gmail.
In practice, there's no need to worry. It's easy to trust a computer for 30 days, so you don't have to enter your PIN on a home or personal computer every time you log in.
In addition to using the iPhone app to generate a Verification code, you can receive text message codes, print out a backup set of codes and connect a second phone that acts as a failsafe if your cell phone is lost and the printout is thrown out.
Google's Matt Cutts explains the redundancy of Google two-setep verification in this video.
The process also generates application specific passwords for mobile apps. These passwords are long and complex, but only need entered once. Users also have the option of turning off access to specific applications over time.
How to Set Up 2-Step Verification for Gmail
1. Sign in to your Gmail Account.

2. Access the 2-step verification settings page.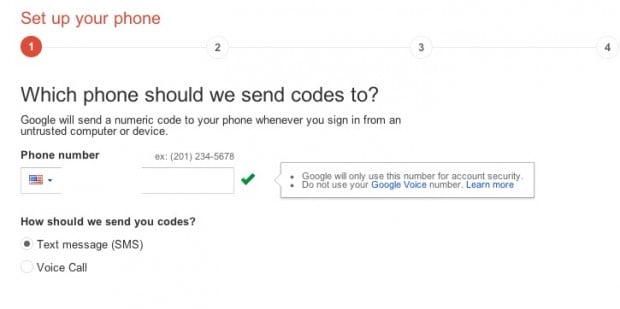 3. Enter your phone number.
4. Enter the code that Google sends you.
5. If on your own computer, choose to trust it for 30 days.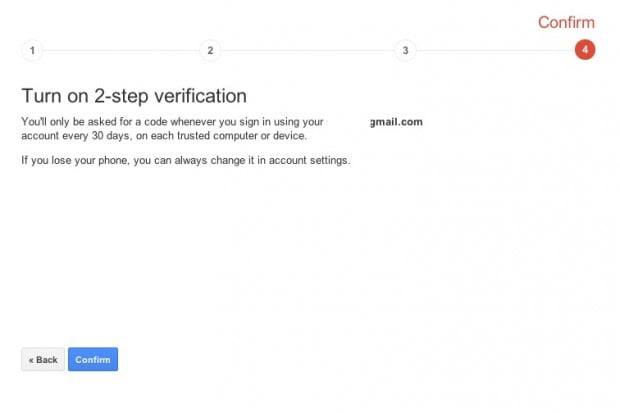 6. Confirm 2-Step verification and it is turned on.
How to Link iPhone Google Authenticator App
Once you have set up 2-factor authentication, you'll need to click on the Mobile application in the configuration settings and download the Google Authenticator app for your iPhone. Google also offers apps for Android and Blackberry.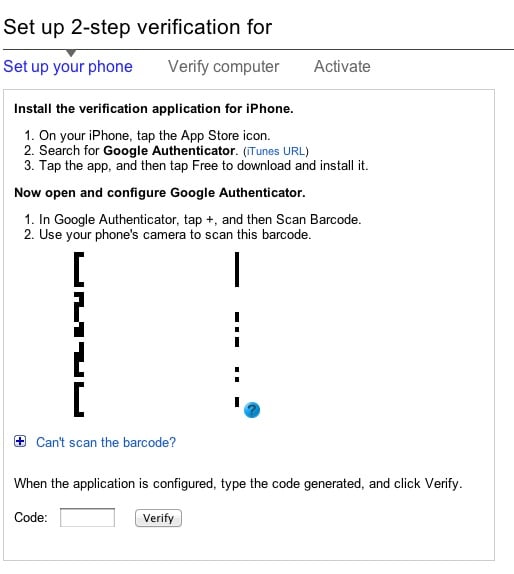 When the QR code shows up on-screen, scan it with the Google Authenticator app.
Enter the verification code to link your iPhone to your Google Account.
How to Connect Apps
If you check your email on the iPhone with Mail or with Sparrow, or use other apps that connect to your Gmail account you will need to create App Specific Passwords.
These long passwords only need entered once, so take a minute to set them up right now.
1. Click Manage Application Specific Passwords
2. Scroll to the bottom of the page and name your password, something like Sparrow or iPhone Mail

3. Enter the new password in your email application, no need to worry about spaces or remembering this password.
—
If you're worried about losing access, be sure to print off the login codes to keep handy. Now, relax knowing that your Gmail account is incredibly secure.

As an Amazon Associate I earn from qualifying purchases.