User Created and Rockstar Approved GTA5 Jobs Launch in GTA Online
GTA5 owners and potential Grand Theft Auto Online players have a new reason to get excited about in-game content. The game's developer has announced that users can finally play the first crop of Rockstar Verified GTA Jobs created with the GTA Online Creator tool that the company released earlier this year.
As detailed in a blog post, the selection of jobs are divided into two types. The first type, dubbed races, are exactly what users might expect. These jobs pit users against each other as they race using the game's selection of automobiles. Of the six new user-created race jobs Jump Jump Jump seems the most interesting. Users are left to try and grab first place as they run through a desert full of jumps. The selection also includes a job that invites users to race on rooftops in a style that is familiar to anyone who has seen a NASCAR race before.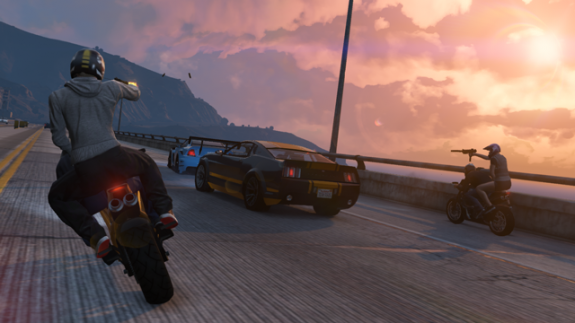 The second set of jobs are called Deathmatches. Playing any of these jobs is as simple as running around and killing as many attackers as possible. There are only four deathmatch jobs in this first batch, however the creators have made the experience interesting by offering users a wide range of deathmatch locations. Bridge of Death leaves users to take on waves of thugs on a suspension bridge that is complete with barriers, explosives, traffic and more.
Read: Grand Theft Auto Content Creator and Free DLC On The Way
All told, spotlighting these new jobs should help with the current content drought users are seeing in GTA Online. So far, the sentiment in the post's comments indicate that the game's player base is hungry for as much content as possible. Those same comments also indicate that GTA Online has become a heaven for hackers and users who would prefer to take advantage of the game's glitches instead of earning cash and cars fairly.
All verified GTA Jobs are available on the Xbox 360 and PS3 versions of the game.

As an Amazon Associate I earn from qualifying purchases.