How to Customize Your Mac with Extensions
Here is a guide on how to use Extensions in macOS to further customize your user experience.
In the previous versions of the operating system, Apple dabbled in widgets and other smaller usage apps that will give you bits of information or process simple tasks. These features have been relabeled as Extensions and are available for you from your favorite applications.
There are limits, but you can customize your Mac without taking extreme steps.
Using Extensions to Customize Your Mac
Here are the steps to take in order to use Extensions and install new ones.
Installing and Customizing Extensions
Extensions are essentially designed to add more functionality to the Finder and the different programs you interact with. Navigate to System Preferences to see the Extensions tab and the various options there.
You can view a master list of Apple and Third–party extensions or look at them by more task-based categories: Actions, Finder, Photos, Share Menu and Today. Each of these categories, if clicked, will show you extensions that are available to you.
Finder items such as Dropbox will usually have a location in the Finder as well as menu extensions like "Share Dropbox Link." This is a perfect example of an extension in practice. You are using a Dropbox application feature right through the finder without having to go the website and get the link.
Markup is an extension that comes from Apple and is featured in the Actions menu. This is what allows you to make markup changes in Preview and Photos applications.
The Share Menu items will include your various sharing methods such as Mail, Messages, Airdrop, but will allow you to customize all of these and even add from the extensive list of third-party applications like LinkedIn, Vimeo or Flickr. Extensions will allow you to customize how you would like to share your media.
Today is a list of all of the options that will appear in your Today view in Notification Center. This is able to be accessed by clicking the top right of your Mac where the Notifications icon is. You will see the option for Today and this is where these various extensions will appear.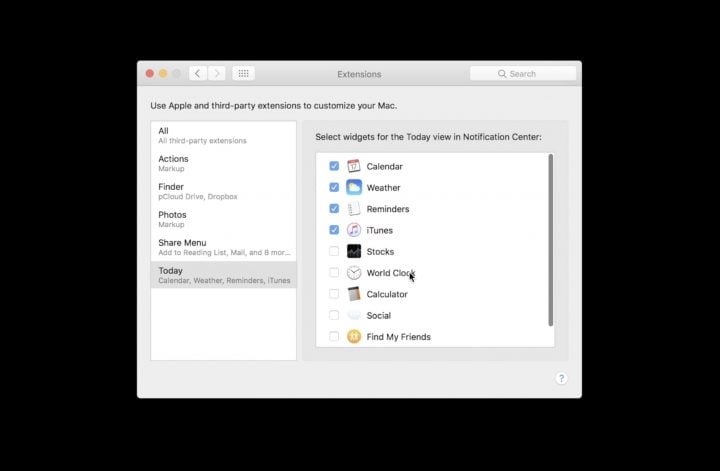 Extensions will often be available on your computer for websites you frequent and will ask to send Push Notifications to you. You will again have full customization of this information within the Extensions tab in System Preferences. Again, these little processes can definitely save you a few moments of time so getting familiar with them is recommended!

As an Amazon Associate I earn from qualifying purchases.