Using Sprint MiFi 2200 to Get Around Pricey Hotel WiFi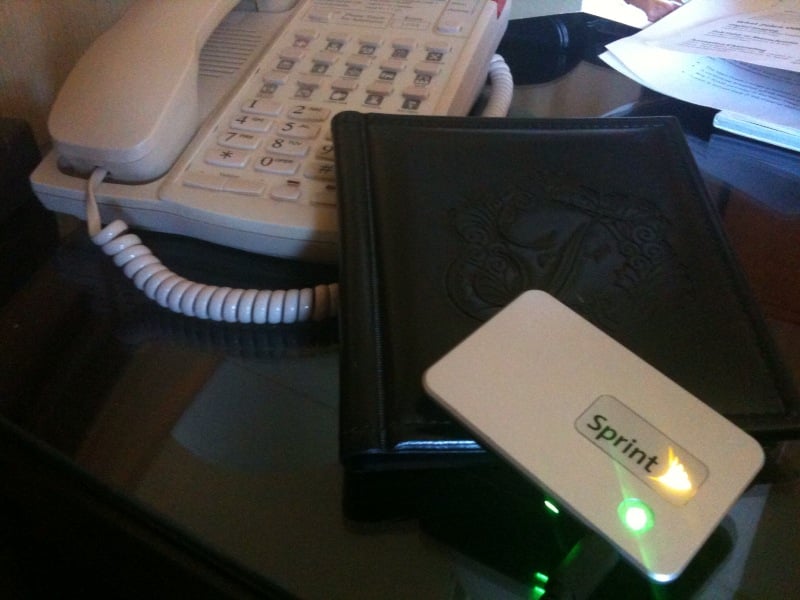 I'm camped out at the Fairmont Hotel in San Jose for a few days and while attending the NVIDIA GPU Technology Conference. While there's plenty of free WiFi access points on the showroom floor, WiFi access in the guest rooms costs $14.95 per day.
Instead of paying mini-bar prices for WiFi I'm relying on my trusty Sprint MiFi 2200 to stay connected. I'm able to stay connected with everyone I usually do via email, Skype, Twitter and Facebook.
I have my MacBook Pro, HP 2730p and iPhone all connected to the MiFi. If I wanted to connect all three of these devices to the hotel's network I'd have to pay $45 per day.
I have had a couple of slowdowns, but it's been pretty solid so far.
I'm not seeing blazing fast upload/download speeds, but I haven't been slowed down in my normal course of work except for uploading/downloading large files.
My Sprint subscription includes unlimited data, which means I never have to worry about overage fees.
How do you deal with Internet access when you're on the road?