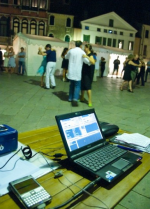 Nothing like a little wine, a little music, a little dancing in the square, and a little mobile device. Xavier at Notebooks.com took a little trip to Venice and found himself in one of those wonderful town squares with restaurants, music, and dancing. Being the intrepid mobile geek reporter that he is, Xavier noticed that the device running the music was an Asus Eee PC 900, tethered to a 3G phone to pull down the music that folks requested.
One question though, Xavier. Why no pictures of you dancing the night away?

As an Amazon Associate I earn from qualifying purchases.