Using the Kindle for Samsung App
Yesterday Samsung announced a partnership with Amazon to bring a Samsung branded version of the Kindle App to its lineup of Galaxy smartphones and tablets. Along with a new App featuring the word Samsung on the Kindle logo, the announcement also featured a new free book offer called Samsung Book Deals for customers who use the App. Samsung's purpose for the partnership is create a unique branded digital book reading experience to its high-end Galaxy lineup of devices, hoping to differentiate that lineup from other Android smartphones. Will that work? Read on to find out.
I downloaded the App yesterday on a Samsung Galaxy Note 3 to give it look-see. The first thing you need to note is that you need to download the App from Samsung Apps, which is the name for Samsung's outlet for selling Apps. I'm not sure when this happened because I haven't shopped for any of Sasmung's wares since I picked up the smartphone last fall, but Samsung recently updated its content selling portal and I needed to go through the rigamarole of having that updated.
After that update process you'll find (at least on the Galaxy Note 3) Samsung Apps once again resides in your App drawer but with a new logo. If you launch Samsung Apps and don't have an account you need to take the steps to create one, but everyone should know the drill for doing this kind of thing.
Once in Samsung Apps simply search for Kindle and the new Kindle for Samsung App will be returned as a result. Download it and install it. Some users who already downloaded and use the Kindle App from the Google Play Store might be wondering how having the Kindle for Samsung App affects the use of that original Kindle App.
First, once you enter your credentials and register the App with Amazon all of your existing Kindle content is imported into the new App in the state it existed  previously. Meaning that if you had a book stored on your device for reading you'll be able to pick up right where you left off. If you have a library of books in Amazon's cloud you'll see them available for downloading.
Second, you are essentially creating a new Kindle device from Amazon's perspective. If you go to the Manage your Devices section of Manage my Kindle on Amazon's website you'll see another a new device show up. In my case it shows up as Warner's Android Device with the logo showing the Samsung branding.
Third, your original Kindle App is still registered as a device and you don't need to de-register it with Amazon. Both Apps can reside side by side on your Galaxy device if you're of a mind to do that.
The primary reason to download the Samsung version of the Kindle App would be to take advantage of the Samsung Book Deals promotion which allows you to download one free book per month. The way that works is that Amazon will each month offer up a selection of four books that you can choose from. You download the book of your choice. Simple.
The good news is that these free books become a part of your library and can sync over other devices that you read Kindle books from. So, lets say the iPad Air is your preferred ebook reading device. You could download the free book on your Galaxy smartphone using the App and read it on the iPad Air.
When you first open the new App you'll see a promotion that says Samsung Book Deals with a button to Get Started. You'll need to sign in with your Samsung account info. Assuming you wish to get started push the button, and you'll see some promotional info about the program.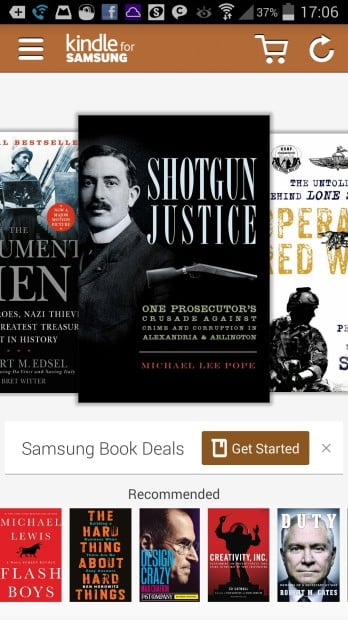 The Kindle for Samsung App does have a new shell with new colors to distinguish it from the existing Kindle App. There's also a large Sync button at the top of the screen that doesn't appear in Google Play version of the Kindle App. The menus are slightly different but the essentials are the same in both Apps.
On the home screen you'll find the familiar carousel and below that two buttons. One button is labeled Recommended. The Other Samsung Book Deals. You press that button and you'll see that month's four titles available for download. You can pick one and you're off and reading. You can also access Samsung Book Deals from the menu.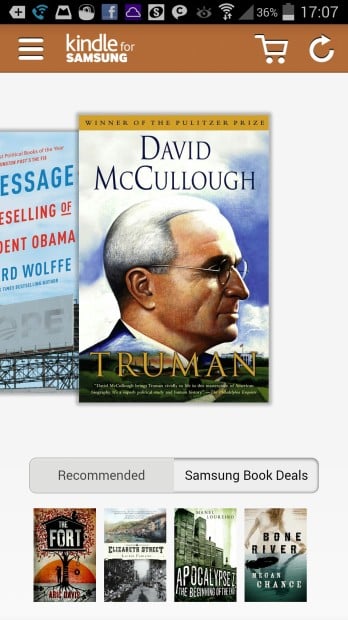 While the inclusion of the Samsung branded Kindle App may be of value to Samsung for marketing purposes, whether or not it is of value to you as a user depends on if you want to take advantage of the Samsung Book Deals to get free books. It would be an accurate assumption that you won't be seeing new releases and hot titles among the books available for the promotion, but Samsung and Amazon promise a range of titles from different categories each month. Whether or not those titles strike your fancy is up to you.