UStream the Obama Inauguration on iPhone (and other devices)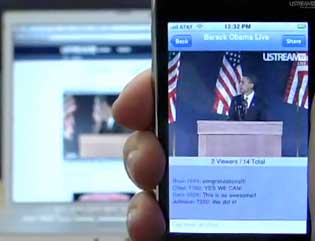 Those not wanting to brave the crowds and the cold in Washington DC for the historic Presidential Inauguration next week can pick it up on their mobile and not-so-mobile devices via UStream. UStream has been working closely with the Obama team throughout the campaign, and the big news this morning is that iPhone users can watch this on their iPhones via an app.
I would imagine there would probably be some folks in the crowd trying to watch this on their devices as well, assuming the bandwidth doesn't collapse under the strain. We live about 75 miles from DC here, and hotels here are booked up, special bus lines and shuttle services have been set up, and I doubt too many people will be doing much work that day. In fact, we've got local folk renting out rooms for as much as $1000 a night the demand is so high.
Here are the instructions to get the app   (via TechCrunch)
Instructions for preview:
1) Plug the iPhone into your computer
2) Wait for the iPhone info to appear in iTunes
3) click on the words ""Serial Number" to cause it to change to ""Identifier"
4) double-click the identifier number (the long string of characters) and then press cmd-C (Mac) or ctrl-C (Windows) to copy it
5) email that identifier to [email protected] so we can build a custom version for that phone using the iPhone SDK
I've followed through on this but have yet to receive anything from UStream and TechCrunch did say the invitations were limited. I would imagine they are swamped at the moment and there's no word on the UStream site to say whether this will go into wide release via the App Store or not.
Although I'm hoping to get the app to test it out, we are planning on gathering in my office around the iMac to watch it via SlingBox. It will be crowded so maybe I'll move down the hall and check it out via UStream.
Here's a video of the app in action.