V-MODA Announces Beautiful New iPhone 5 & Galaxy S3 Cases
Today V-MODA announced its new Metallo line of designer cases for the iPhone 5 and the Samsung Galaxy S3 that bring the design of the company's headphones to smartphones.
The new V-MODA Metallo cases are all metal that cover the back and sides of both devices while leaving most of the front open save for the corners. The new cases feature a "V-ANGLE" design that cuts angles at the top and bottom of the phone to make them look similar to the shape of V-MODA's headphones.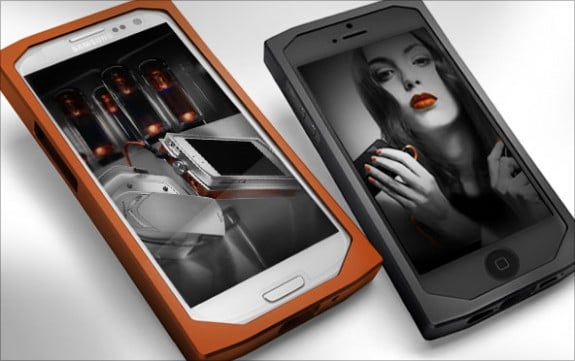 V-MODA's Metallo cases each feature cut-outs on the back for what the company calls its VERZADOCK docking system. As the name implies, the system means the V-MODA VAMP VERZA amplifier can attach to the back of the case on both the iPhone 5 and Galaxy S3.
The VAMP VERZA is a headphone amplifier and digital-to-analog converter than will take digital audio from the smartphone and convert it to analog audio to improve the sound. The device also acts as an external battery pack for any smartphone.
While the new Metallo cases let the VAMP VERZA dock on the back of the device, users will still need a cable to connect the device to the smartphone, making it more of a hassle for users who just want a battery pack. At $598 for just the VERZA it's also much too expensive for users who don't want the enhanced sound.
The V-MODA Metallo cases come in four colors for both the iPhone 5 and Galaxy S3: Red Coral, Silver Snake, Orange Serpente and Black Mamba. The cases are available now for $101 each, which is expensive, but arguably worth the price for the beautiful metal design.
Future versions of the V-MODA Metallo will support the new Samsung Galaxy S4, Samsung Galaxy Note 2 and "other select mobile devices." It's not clear when those cases will come to market.