Valentines Day Seagate FreeAgent Go 320 GB Winner Announced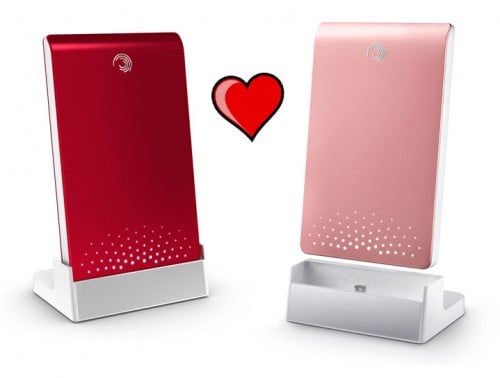 Congratulations to Sally McKee, the winner of His / Her Seagate freeAgent Go 320GB hard drives.
Here is her winning entry:
I have been with my husband for nineteen years. In early '93 we moved from Bend OR to Prineville Or which is 35 miles away from Bend. My sister had recently moved away with a new beau and I was blue about this and lonely. Tom was working days at a local drug and alcohol counsling agency and I was working swing at a detox in a town eighteen miles away. It snows and ices in Central Oregon and sometimes I did not get home until midnight or later. I thought Tom had forgotten Valentimes day and I was very sad. I arrived home at well after midnight. The house was completely asleep except for our two dogs Gorski and his mom Tasha. They greeted me slurpely and well. I flopped down on the couch exhausted+, and turned on the TV low. I went and got a soda. I sat it on the coffee table and thats when I noticed it. A small jewelry box, wooden, made to look antique with muted yellow, brown and gold rosed. I was filled with that ""oh he didnT forget feeling". I opened the top expecting jewelry. The top was empty except for this poem taped to the inside of the lid.
How do I love thee? Let me count the ways, a month of days only adds to the love I feel for you. Each day it grows stronger, each month it grows broader, each year it grows brighter. Choose a way, each from now to eternity, let it be your promise from me to you each morning and my promise fullfilled each evening. Always, your adoring husband, Thomas Micheal.
In the little drawer underneath was 31 little slips of paper, each bordered in red, and each says something like this; My Sally Jane You are luscious! Your Thomas. 31 of them! You are Zesty, You are my love, wonderful, gorgeous, magnificent, etc. He did it all. It must have taken hours. Some of them are funny because he had to think up 31 of them. LIke You are my cohort, you are zesty. I still have that box. I am still his love, and he is mine. We have been through some hard, hard times in the last few years, as have many. Whenever I have any doubt, I get this box out and look at it and I am without a doubt His angel. I don't think any thing could top the time and love that went into this valentine.

As an Amazon Associate I earn from qualifying purchases.