Which Verizon 4G Data Plan is Right For You And Your Droid Bionic?
The Droid Bionic is officially on sale today. There are good reasons for scooping it up right now and waiting a little longer, but either way I know many of you will get this phone no matter what. If you're not an existing Verizon Wireless customer with an unlimited plan, you have a difficult choice ahead of you: which data plan should you get?
Verizon offers 6 options, each with pros and cons. The best one for you all depends on how much data you use. Verizon has a handy data usage calculator that tries to determine how much data you'll need based on your activity. However, how many of us really know how many emails we send, pictures we upload, or minutes we stream music in a month? Best to start with the lowest reasonable plan and move up if you need to.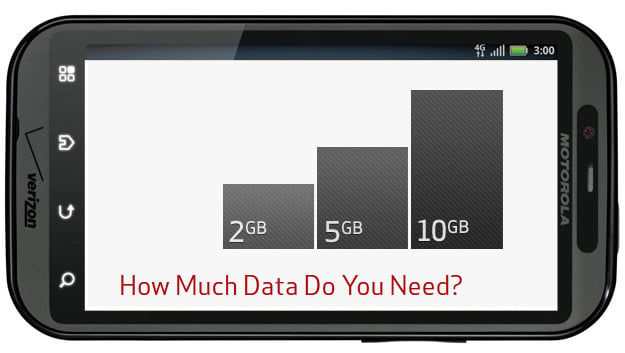 2GB / $30 per month (recommended) — The average user probably doesn't use more than 2GB of data in a month thanks to the mobile web and efficient apps. Plus, if you're using Wi-Fi at home and work, the bulk of your data won't come over 4G. Even if you think you use more than that but aren't sure, start with this plan, anyway. If you go over you're only out $10 for 1GB, and you can always upgrade your plan later. Just check the Bionic's data tracker every week to see how close to the cap you are and follow our tips for reducing data usage.
4GB + Mobile Hotspot / $50 per month (recommended) — The most likely scenario for using this much data on a smartphone is if you also add mobile hotspot capability. The 4GB plan is for people who are occasional hotspot users. With this much data you probably won't need to worry about going over by streaming music on your phone but stick to streaming video over Wi-Fi. However, remember that when using the hotspot with a computer, you'll likely use up more data. If you're going to use this feature on a regular basis, consider the 7GB plan, instead.
5GB / $50 per month — If the Bionic were a tablet, I might say this looks like a good deal. But, again, there aren't too many mainstream users who'll pull down this much data on a phone. If you find that 2GB isn't quite enough but you're not using much more than 3GB, go for the 4GB plan with mobile hotspot. Same price, but with an added feature that's very useful in a pinch.
7GB + Mobile Hotspot / $70 per month — This option is for users who'll use the mobile hotspot feature frequently – remote workers, freelancers, frequent business travelers – and don't want to worry about overages. 7GB is a lot of data, especially if you're not gobbling up portions of it by streaming video all day, so it should suit most power users. Again, use the Bionic's data tracker to get a good idea of your normal usage patterns.
10GB / $80 per month — Again, if you're shopping for a tablet data plan, this might make sense depending on how much you use a tablet. But for a phone, there are few scenarios in which you'll reach close to 10GB per month. If your phone is your only access to the Internet and the only way you have of watching Netflix and streaming from Spotify, then this may be the plan for you. But if that's really the case, then consider stepping up one more tier.
12GB + Mobile Hotspot / $100 per month — This plan is for those of you who want to replace your home internet with deliciously speedy 4G LTE or spend a great deal of time away from your home or work Internet. While replacing your cable modem with 4G is not something I recommend given that the Verizon Wireless network isn't quite at 100%, this plan is the most likely to keep you from going over your limits even if you do everything on your phone, laptop, and tablet that you normally do (unless you torrent a lot of TV and movies).

This article may contain affiliate links. Click here for more details.