Verizon 4G LTE Broadband Router With Voice (MiFi Home) Review
Unlike Verizon's other MiFi products made by Novatel Wireless, the new 4G LTE Broadband Router with Voice, also branded as the MiFi Home, is not designed to be used as a truly mobile product. Instead, Verizon is showcasing its latest MiFi Home as an affordable, convenient way to either allow users to cut the cord with traditional home telephone and DSL lines, or bring fast broadband speeds to areas that are not wired for cable or DSL service, particularly customers living in rural geographies.
Like traditional MiFi Jetpacks offered by Verizon Wireless, the Verizon 4G LTE Broadband Router with Voice connects to Verizon's 4G LTE network. Up to ten devices over WiFi and 3 Ethernet-connected devices can connect to this router, which we'll refer to as the MiFi Home nomenclature that Novatel Wireless uses.
However, unlike portable MiFi units, the MiFi home comes with additional ports and features that make augment connectivity. Currently, there are three Ethernet ports so devices that rely on Ethernet and do not have built-in WiFi can still connect. These include older Slingboxes, connected cable boxes, home servers and digital storage units, and some VoIP telephone boxes. There are also two telephone ports.
As the MiFi Home comes with voice, both telephone ports will share the same number and you can wire your home with a mobile number as well, allowing you to potentially cut your home telephone line and your home DSL line if you so choose.
According to Verizon's literature inside the box, a future firmware update to the MiFi Home will bring even more features, allowing home security systems to connect directly into the MiFi Home, as well as fax machines to be utilized with this home router. No specifics were given to when we could expect these updates to arrive, but there is a lot of upside potential for these features, particularly for those who need to set up a temporary or remote office in the field–such as those working in construction management–or for small businesses that want to completely eliminate having a wireless line at all as their office security, fax, phone, and data connection could be powered through Verizon's mobile broadband service.
And given it's more wired–rather than wireless approach–with the built in telephone and Ethernet jacks, the MiFi Home also takes on a more traditional router-like appearance than a portable Jetpack design. Coated in a piano black glossy paint finish, the router is slim and tall. The shape of the MiFi Home consists of a tower and a base.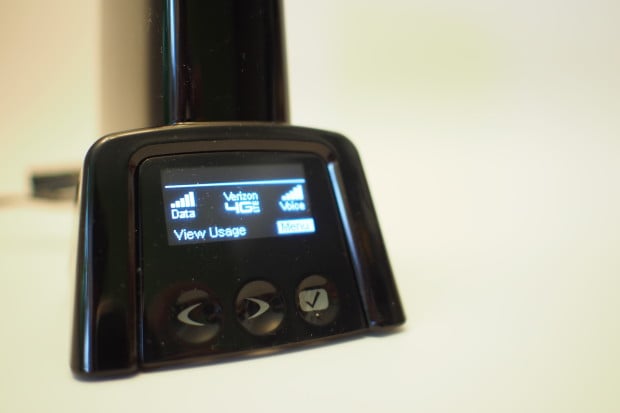 Although the device is lightweight and could easily be transported between room to room, or from home to office, requires a power cord to be plugged in for use of data. Underneath, there is a backup battery, and the MiFi Home can be powered through the battery for about 3.5 hours solely for telephone use. This is useful for emergency calls in an event of a natural disaster, like a hurricane or earthquake, when there is a power failure.
Additionally, it should be noted that the MiFi Home comes with an embedded SIM card that's not accessible to the consumer. This means that you can't swap out or change the SIM card, which you shouldn't need to, but the limitation could be problematic in the highly unlikely event that your SIM card fails in the future.
On the tower portion itself, you have a power button and a WPS setup button. The base portion has a display, a left and right navigation key, and an OK button. The base navigation is very similar to the menu adopted by Novatel Wireless in its mobile MiFi hotspot products and owners of a Novatel-made Verizon MiFi Jetpack should feel right at home. A small OLED non-touch display shows the menu and basic connection information, including signal strength for voice and data calls.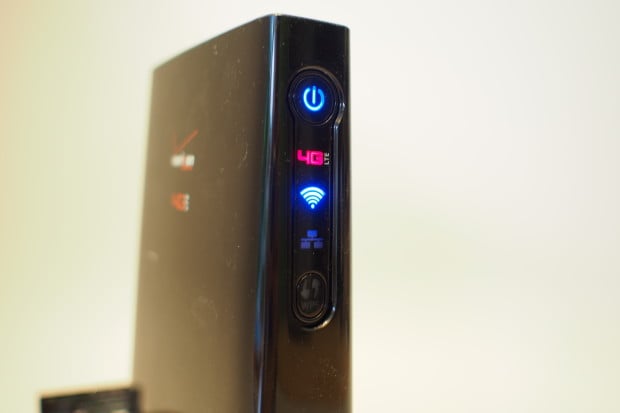 The display automatically turns off after a few seconds of inactivity to save on power consumption, but you can light up the display again by a simple press of the power button at the top of the tower portion. Press and hold the power button and you'll cycle down the MiFi.
Voice calls are handled over Verizon's 2G network while data is piped through 3G and 4G LTE. Given Verizon's robust LTE deployment, you should find 4G speeds through much of the U.S.
In terms of the menu system itself, you'll find your WiFi SSID and password through the menu as well as the number of connected devices, battery life, signal strength, and the ability to perform a software update directly over the air, like on smartphones, without having to connect the MiFi Home to a PC.
More detailed management of the router is done through Verizon's web-based interface. To access this interface, open a web browser on your PC or tablet and go to https://VerizonBRV/. Your administrative password to change the settings is found on the interface on the MiFi itself, and you can change this password to something else if you desire. By default, the administrative password and the WiFi password are set to the same thing, so we would recommend you change the password for one or the other if you give out your WiFi password to guests or visitors.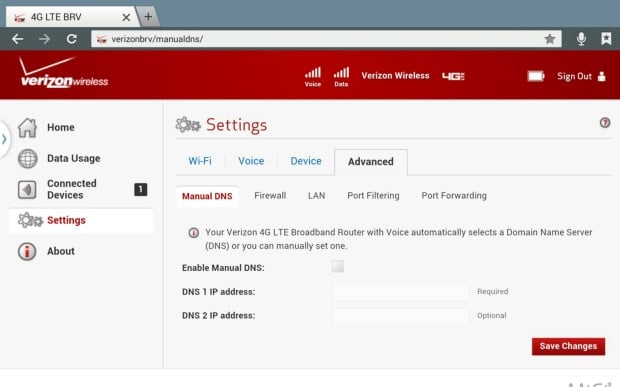 WiFi is broadcasted over either a 2.4 GHz or 5 GHz frequency, but not both simultaneously, and the MiFi Home is rated for WiFi a/b/g/n connectivity. Users who need improved reception can purchase an external antenna and connect it to the MiFi Home as well to get better reception with Verizon's LTE network.
Broadband speeds using the MiFi Home is consistent with using LTE on smartphones. While Verizon promises speeds between 5-12 Mbps downloads and 2-5 Mbps upload, I routinely saw speeds in excess of Verizon's quotes in San Jose, California. Voice quality was warm and good on Verizon's 2G CDMA network.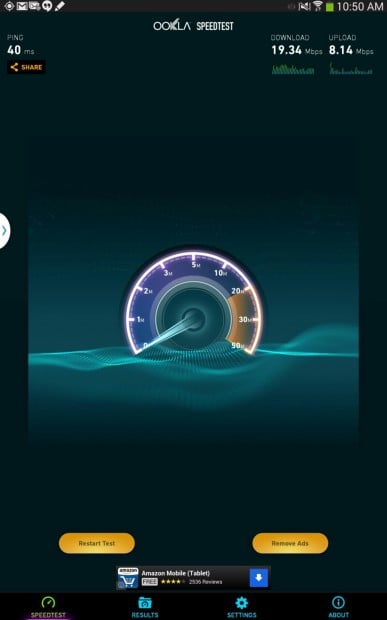 The MiFi Home represents a nice tool for a few different types of users, but given the simplicity and reliability of Verizon's network, the device could become an expensive proposition for heavy data users. The MiFi Home could be added to an existing Share Everything Plan where you'll get unlimited voice minutes for calls and can share the data bucket between the MiFi Home and any other devices you may have, including other smartphones or tablets in your account. By itself, for example, you're looking at spending $30 each month for unlimited nationwide calling and another $70 for up to 4 GB of sharable data.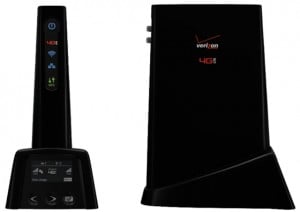 You can configure to use the MiFi Home for only voice or only Internet service, and if you choose either option, your billing will drop. Using the MiFi Home just for voice decreases the line charge by $20 on a Share Everything Plan. For data only, you're starting out with $20 for the line each month, and then an additional charge based on the size of your data bucket. So based on the above configuration, if you eliminate voice, you're still looking at paying a whopping $90 just for 4 GB of data.
This is an expensive proposition considering you can get wired DSL and telephone service for roughly half this cost, and Verizon's FiOS and AT&T's Uverse are plenty fast where those fiber services are available.
But for those who aren't wired for DSL or have constantly changing office locations but need a constant telephone number, the 4G LTE Broadband Router with Voice represents a nice option. If you're a party planner and need to wire up a conference room or light up a venue on the day of an event, this is a nice solution to get your backend going. If you live in the middle of the woods and DSL doesn't come to you, the MiFi Home will get you up to speed in no time. And if you work in the field with a remote or temporary office, the MiFi Home will provide you with phone and data connectivity at fast speeds that rivals most cable and fiber services available today. However, with such fast speeds, it's easy to burn through a lot of data and incur overages.
Comparable Setups:
The MiFi Home is definitely a simple setup to replace your voice and data connection for in-building use and add Ethernet connectivity. There are other more complex alternatives on the market, and those solutions aren't always as reliable as the connection often drops off and you may need to power cycle the devices to get back up and running.
In order to replicate the functionality of the MiFi Home, one would need to connect either a smaller portable MiFi or a USB data modem to a Cradlepoint router. This will give you the ability to broadcast your LTE connection over WiFi, and the Cradlepoint also adds in 4 Ethernet ports. For phone setup, you may need to buy a separate VoIP box such as a Magicjack or Ooma Hub and plug it into the Ethernet port.
Conclusion:
When compared with solutions, like a Verizon MiFi Jetpack or USB modem coupled with a Cradlepoint router for home use, the Verizon 4G LTE Broadband Router with Voice offers a lot more useful features that are geared towards connected devices that may require a wired line connection. The device offers users the ability to keep their number wherever they may go and share data use in a bucket with a Share Everything Plan. However, the MiFi Home is not a product without its own set of compromises.
Despite being a larger size than the non-Home version of the MiFi, it's unclear why Novatel is limiting the MiFi Home to only phone and no data usage when not plugged into a wall source for power–the company could have squeezed in a larger battery to accommodate both voice and data while on battery power.
The main drawback with the solution is that data continues to be expensive, and users will ultimately need to watch their data use when connecting multiple devices to the MiFi Home. It's easy to forget that you're on a mobile broadband connection a lot of the times given Verizon's robust speeds and wide reaching LTE coverage footprint.

As an Amazon Associate I earn from qualifying purchases.