Verizon 4G LTE Samsung Galaxy Tab 10.1 Review: Surprisingly Long Battery Life
For the past several days I've been using the Samsung Galaxy Tab 10.1 version with 4G pretty much the same way I used the Wi-Fi version: to play games on the go, read magazines, and occasionally check on email.
I'd expected to find the battery life on this model wanting due to the 4G radio inside. After all, 4G phones have had some issues with this. But as I used the tablet, I didn't note a significant power drain. But anecdotal data isn't as good as a test, right? So I loaded up the Android Battery Test made by our friends over at Laptop Magazine.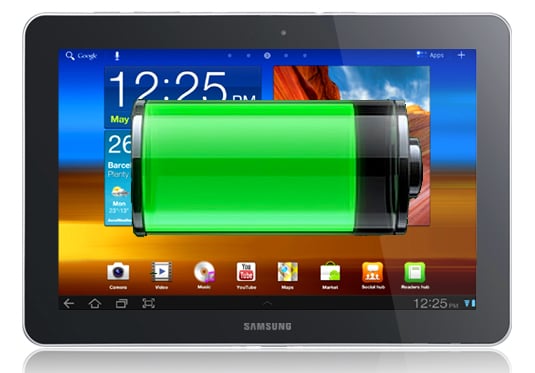 When I tested the Wi-Fi version of the Tab it lasted 8 hours and 23 minutes, which uses the stock browser to surf the web constantly until the battery dies. How did the 4G version do? 6 hours and 20 minutes. Just 2 hours less.
This is good news for the Galaxy Tab. After all, 6 hours of continuous life translates into near all day use, depending on what you do. And given that the tablet sips power when the screen is off, you don't have to worry about it even when you're not using it.
Despite the price, the 4G Galaxy Tab 10.1 is starting to look sweeter and sweeter. Next up we'll explore whether built-in 4G is worth the premium you pay.