Verizon 4G LTE Smartphone Roundup: Which Device to Consider?
With the imminent launch of the Motorola Droid Bionic on Verizon Wireless, users looking at fast mobile broadband data on the carrier's 4G LTE network will have many choices. In this roundup, we're going to take a look at the first generation of 4G LTE devices, including the Thunderbolt, Droid Charge, and LG Revolution, and then compare those to the Droid Bionic and some unannounced devices like the Samsung Stratosphere, Pantech Breakout, and others.
HTC Thunderbolt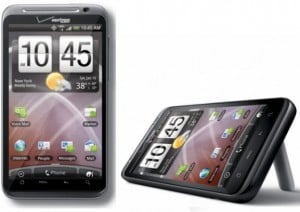 The HTC Thunderbolt was the first 4G LTE device to launch on Verizon and features a 4.3-inch WVGA LCD display, kickstand, a 32 GB micro SDHC card, and 768 MB of RAM. The device has a front-facing camera, 8-megapixel rear camera with 720p HD video recording capabilities and dual LED flash, and comes with all the radios and sensors you'll find on a high-end smartphone. Essentially, the device is an HTC EVO 4G for Verizon's LTE network with some tweaks and changes. The device launched with a 1 GHz single-core CPU
Pros: The Thunderbolt is fast, multitasks well, and comes with ample RAM allowing users to multitask. HTC Sense is a nice UI for consumers, and an upgrade to Android Gingerbread is supported.
Cons: Battery life remains to be a big problem for the Thunderbolt and early adopters have noted connectivity issues, including constant switching between 3G and 4G signals. There's also no HDMI port as HTC opted for the wireless DLNA protocol instead.
While the Droid Bionic was long speculated to be the second 4G LTE device on Verizon's network, Motorola's long delay to launch force Verizon to launch another device. The Samsung-made and un-named device from CES was chosen as the network's second device and was blessed with the Droid moniker. The device essentially is an upgraded model of last year's Galaxy S model, retaining the same 1 GHz Hummingbird CPU from Verizon's 3G-only Samsung Fascinate, but the Charge's standout feature is its Super AMOLED Plus display. Gone is the PenTile sub-pixel arrangement for a more traditional sub-pixel layout, lending to a crisper, brighter 4.3-inch display with saturated colors.
The device is pretty similar in function to the Thunderbolt, featuring an 8-megapixel camera with 720p HD video recording and single LED flash, all the radios and sensors of a high-end smartphone, TouchWiz consumer UI, HDMI output, 32 GB micro SDHC card, and front-facing camera.
Pros: Where the Thunderbolt lacked in battery life, the Droid Charge makes up for it and its 'Charge' name is very appropriate. With the ability to tether up to 10 devices to its connection via the optional mobile hotspot app, the Droid Charge is a beast of a phone with its single-core Hummingbird CPU and Super AMOLED Plus display.
Cons: Whereas the Super AMOLED Plus display is a brilliant selling point, over-saturated colors may turn off Retina Display purists from the iPhone camp. The device is also 'plastic' feeling and comes with a Hummingbird chip that's almost a year old. Samsung's TouchWiz UI may turn off some consumers as it's not as elegant as HTC Sense.
LG Revolution
Dubbed as the first Netflix-capable phone, the LG Revolution's mediocre specs make the earlier two 4G LTE devices stand out more, though that's not to say the Revolution  isn't a bad phone. Launching third, the Revolution didn't have anything to set it apart from the crowd–Netflix was promised to be rolling out to more devices in the future. At least the Thunderbolt was first and the Charge offered stellar battery life with a Super AMOLED Plus display. The Revolution is a quiet beauty on its own, however, with a 5-megapixel rear camera, LG user interface, front-facing camera, single-core Snapdragon 1 GHz CPU, and front-facing camera.
Pros: An out of the box Netflix experience sets the Revolution apart from its competitors.
Cons: Despite a catchy name, the Revolution fails to create a revolution. Its modest specs make it hard to compete when it launches third. The device's attractive, but more 'brick-like' form factor may turn some people off.
Motorola Droid Bionic
This is the 4G LTE device to get on Verizon's network, and in my opinion is the device that marks the beginning of the second-generation of 4G LTE devices. What sets the Bionic apart from the three earlier devices are: dual-core gigahertz CPU, high resolution qHD display, and support for Motorola's Webtop OS through accessories, such as the Lapdock and multimedia home dock. With a 4.3-inch display, long battery life, and dual-core processor, this is the device that will attract the geekiest of us to join the 4G revolution on Verizon's LTE network, which promises download speeds of between 6-12 Mbps and upload speeds of 2-6 Mbps, though real life performance may be much faster as I've discovered.
Pros: From what we've seen in early reports, long battery life, high resolution display, and it's the first dual-core 4G LTE smartphone.
Cons: Depending on where your tastes in custom UI lay, the MOTO BLUR UI may be a con, but I personally like Motorola's refinements to the latest generation of the BLUR UI.
Check out our full Droid Bionic Review.
Samsung Stratosphere
Verizon said it won't be carrying the Galaxy S II model, which is a bit disappointing, but I guess the carrier wants to focus its dual-core attention on the long awaited Motorola Droid Bionic. Instead of an S II, the carrier seems to be looking at re-launching a Galaxy S 1 model, and this time it's the Stratosphere, a device that appears to be a re-hash of the Sprint Epic 4G. The device features a  Super AMOLED display, Hummingbird single-core CPU, and a sliding QWERTY keyboard.
Pros: For those complaining about the lack of variety on Verizon's 4G network–all devices so far rely on a 4.3-inch touch-only form factor–the Stratosphere adds a keyboard for messaging enthusiasts.
Cons: The Stratosphere is a launch of last year's Galaxy S 1 specs with today's 4G LTE network and lacks innovation. A Super AMOLED display rather than the newer, brighter, and crisper Super AMOLED Plus display may be a downer, but the phone should please those looking for something a little different on Verizon's growing 4G network.
Pantech Breakout
Can Pantech really breakout of the pack with its Breakout? We'll have to see as the device is really similar to what I categorically call the 'first generation 4G LTE devices' for Verizon, with single-core CPUs and WVGA displays, like the Thunderbolt, Droid Charge, and Revolution. The phone's said to be among the most affordable 4G LTE smartphone for Verizon's network, and also offers some variety in terms of form factor to the carrier's 4G LTE portfolio. Rather than the traditional 4.3-inch display, the Breakout's rumored to sport a more compact 4-inch touchscreen. For those who are on the Droid Incredible II the more compact 4-inch display may be a winning choice as it's more pocketable.
Pros: The device's 4-inch screen offers a bit more portability, but doesn't offer much more in terms of differentiating form factor. A cheaper, more affordable price tag along with a target at the mid-range demographics may make this phone popular for those unsure about investing over $200 in a 4G smartphone.
Cons: In an age of dual-core CPUs and qHD displays, the Breakout brings a paltry single-core processor and WVGA display. Geeks won't be happy, but these more pedestrian specs should sit well still with the mid-range market. There's also a new Pantech UI that we've yet to evaluate for ourselves.
UPDATE: The Droid Bionic is in the process of launching. You can  read our full Droid Bionic Review here.