Verizon Begins Rolling Out HTC Droid DNA OTA Update
Verizon Wireless is now beginning to roll out an over-the-air (OTA) software update for the HTC Droid DNA on its network. The update itself weighs in at about 100 MB so you can either check for it and download the update over a 4G LTE, 3G, or WiFi network. Though the update doesn't bring any new features or add functionality to the Droid DNA, it does make things a bit more stable on the device and the firmware update can be seen as a bug fix.
According to Verizon, the update will help to improve connectivity to WiFi and Bluetooth as well as make turning your Droid DNA into a wireless mobile hotspot more reliable.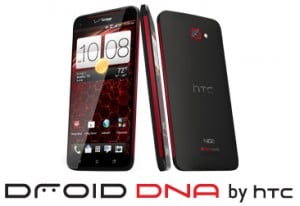 Previously, a number of users had noted that when using the Droid DNA as a wireless hotspot to tether other WiFi-enabled devices to Verizon's network would result in spotty connections that would drop off connectivity frequently. Hopefully, this update would remedy this problem for those who need to use their phones to lend connectivity to other devices.
Additionally, it seems that audio quality is now also improved when using a wired headset or over Bluetooth.
For more information about the software update, you can visit the Verizon support page. If you do not see the update pushed to you, you can manually check for the update in your settings. Otherwise, you can wait until the update gets pushed to your device in waves, so it may take some time.
The HTC Droid DNA is among the first–and is the first in the U.S.–device to be released with a 1080p full HD resolution display for a smartphone. It comes with a quad-core Snapdragon S4 Pro processor. The device does have a number of high-end specs, but power-users have criticized the device for not having removable battery or removable memory card to add additional storage to the built-in 16 GB storage.
The HTC Droid DNA, though may be considered a phablet, is probably closer to a phone in functionality and size.