Verizon BlackBerry Bold 9930 to Cost $250?
It looks like the BlackBerry Bold 9930 is actually going to be costing $250 on-contract with both Sprint and Verizon as CrackBerry has gotten a hold of a piece of evidence that shows that Verizon's version will be listed at the same price that we saw Sprint's listed at a few days ago.
Obviously, that's a lot of money for those of you who wanted to sign a new contract with Verizon to get this phone and I have a feeling many of you will probably start looking elsewhere.
If you were hoping to get it off-contract, the Bold 9930 will apparently cost $510 which, again, is probably out of the question for most of you. Not exactly sure what RIM and the carriers are thinking here but let's hope that these prices one, aren't the real deal or two, drop down after the first week.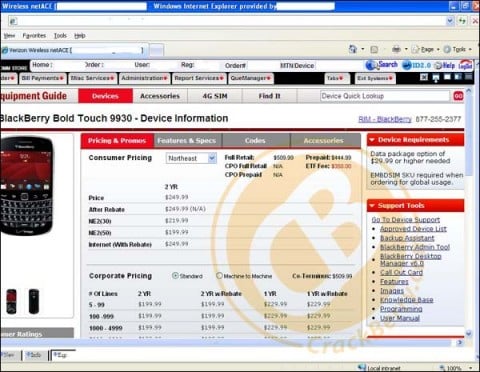 The Bold 9930 looks like a quality phone but the price point is way too steep with the market the way it is right now. The Motorola Droid Bionic, Samsung Galaxy S II and the upcoming next-gen iPhone are upcoming and I don't see how RIM expects to sell very many of these.
That being said, I'm sure there are a few of you that are willing to drop this much money on the Bold 9930 but don't expect me to understand why.
Look for the handset to hit Verizon tomorrow and Sprint's to land on August 21st.

As an Amazon Associate I earn from qualifying purchases.