Verizon Bringing 4G LTE To 59 Additional Cities In 2011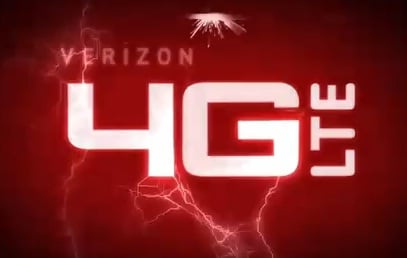 If there is one thing that has been overlooked with the launch of Verizon's 4G LTE network and it's first 4G LTE smartphone, the HTC ThunderBolt, it's the fact that Big Red's 4G LTE network doesn't cover every city in the United States.
In fact, there are only 39 markets in the entire country that have been lit up with Verizon's blazing fast network so far. Back in January, Verizon announced that an additional 49 cities would get blanketed with LTE before the end of 2011 and today, the carrier has added another 59 cities that will see the service sprout up by the end of the year.
The new Verizon 4G cities include:
Decatur, Ala.
Huntsville, Ala.*
Mobile, Ala.*
Montgomery, Ala.*
Fayetteville-Springdale-Rogers, Ark.
Fort Smith, Ark.
Little Rock, Ark.*
Tucson, Ariz.
Bakersfield, Calif.
Fresno, Calif.
Modesto, Calif.
Sacramento, Calif.
Salinas-Monterey, Calif.
San Luis Obispo, Calif.
Santa Barbara, Calif.
Stockton, Calif.
Colorado Springs, Colo.*
Fort Collins, Colo.
Fairfield, Conn.
Hartford, Conn.
New Haven, Conn.
Daytona Beach, Fla.
Fort Myers, Fla.
Gainesville, Fla.*
Lakeland-Winter Haven, Fla.*
Pensacola, Fla.*
Sarasota-Bradenton, Fla.*
Tallahassee, Fla.*
Augusta, Ga.*
Hilo, Hawaii
Honolulu, Hawaii*
Kahului-Wailuku, Hawaii*
Lahaina, Hawaii*
Davenport, Iowa
Iowa City, Iowa
Boise-Nampa, Idaho*
Bloomington/Normal, Ill.
Carbondale, Ill.*
Champaign, Ill.
Rockford, Ill.
Springfield, Ill.
Fort Wayne, Ind.
Indianapolis, Ind.
Lafayette, Ind.
Wichita, Kan.*
Louisville, Ky.
Baton Rouge, La.*
Hammond, La.*
Springfield, Mass.
Worcester, Mass.
Hagerstown, Md.
Flint, Mich.*
Grand Rapids, Mich.
Lansing, Mich.
Saginaw-Bay City, Mich.
Starkville, Miss.
Asheville-Henderson, N.C.
Fayetteville-Lumberton, N.C.*
Greensboro-Winston Salem-High Point, N.C.*
Raleigh-Durham, N.C.*
Wilmington, N.C.*
Fargo, N.D.
Omaha, Neb.
Albuquerque, N.M.
Las Cruces, N.M.
Santa Fe, N.M.
Reno, Nev.
Albany, N.Y.
Ithaca, N.Y.
Syracuse, N.Y.
Dayton-Springfield, Ohio*
Lima, Ohio
Toledo, Ohio
Tulsa, Okla.*
Portland, Ore.
Allentown-Bethlehem-Easton, Pa.
Erie, Pa.*
Harrisburg, Pa.
Johnstown, Pa.
Scranton/Wilkes Barre, Pa.
State College, Pa.*
Charleston, S.C.*
Columbia, S.C.*
Greenville-Spartanburg, S.C.*
Hilton Head, S.C.*
Sioux Falls, S.D.*
Chattanooga, Tenn.*
Clarksville, Tenn.*
Cleveland, Tenn.*
Dyersburg-Union City, Tenn.
Jackson, Tenn.
Kingsport-Johnson City, Tenn.-Bristol, Va.*
Knoxville, Tenn.*
Memphis, Tenn.*
Beaumont-Port Arthur, Texas*
Bryan-College Station, Texas*
El Paso, Texas
Temple-Killeen, Texas
Provo-Orem, Utah*
Salt Lake City-Ogden, Utah*
Olympia, Wash.*
Centralia, Wash.*
Spokane, Wash.
Charleston, W.Va.*
Madison, Wis.*
Milwaukee, Wis.*
With the addition of these new cities, the total amount of markets Verizon expects to cover by the end of 2011 is now up to 147.
At the moment, Verizon's 4G LTE network cover about a 1/3rd of Americans or 110 million people and that number should start seeing some significant increases over the next several months.