Verizon Does the Inevitable: Announces Spec Bump and LTE for Samsung Galaxy Tab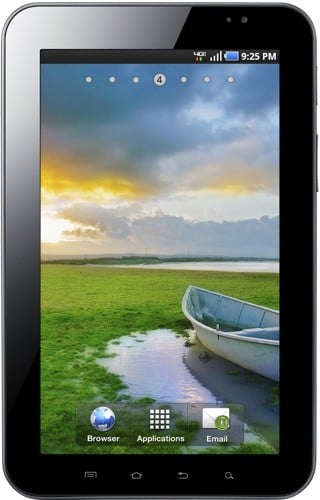 If you tell me you didn't see this coming back when you bought your Samsung Galaxy Tab you're lying. Or maybe you ignored that recent price drop that happened, oh, when was that, last weekend? OK, maybe you're not lying. Maybe you're just an early adopter with lousy rationalization skills.
Verizon today announced that they would be bringing an updated Samsung Galaxy Tab to its stores. Yep, that's right. Of course Verizon isn't fooling around with 3G here, this will be a LTE 4G model (with a 3G fall back). The processor is bumped up to 1.2GHz and the camera has gone from 3MP to 5MP. No word yet on pricing or when this will be available.
But keep in mind you're not alone here. Samsung is promising all kinds of new Galaxy Tab Tablets in the near Honeycomb future.
Press Release follows:
VERIZON WIRELESS AND SAMSUNG MOBILE ANNOUNCES FIRST 4G LTE-ENABLED SAMSUNG GALAXY TAB™
New 4G LTE-Enabled Samsung Galaxy Tab™ Features Access to Verizon Wireless' 4G LTE Mobile Broadband Network and 5 Megapixel Rear-Facing Camera
LAS VEGAS and BASKING RIDGE, N.J. – From the 2011 International Consumer Electronics Show (CES), Verizon Wireless and Samsung Telecommunications America (Samsung Mobile) today announced that a 4G LTE-enabled Samsung Galaxy Tab™ will be available on the Verizon Wireless 4G LTE Mobile Broadband network.
The 4G LTE-enabled Galaxy Tab features a 7-inch enhanced TFT display with 1024 x 600 WSVGA resolution, full support of Android™ 2.2 with access to Adobe® Flash® 10.1, 1.2GHz Cortex A8 Hummingbird application processor and access to more than 100,000 applications available on Android Market™.
Designed with a rear-facing 5 megapixel camera, the 4G LTE-enabled Galaxy Tab is also outfitted with a front-facing 1.3 megapixel camera and camcorder, enabling video chat capabilities. The 4G LTE-enabled Galaxy Tab includes access to Samsung's Social Hub service, built around messaging, contacts and calendar sync, it allows users to send and receive information, whether it is e-mail, social network updates or text messages. It also features Samsung's Media Hub content service available on the 4G LTE network, which offers a robust collection of premium movies and TV episodes for purchase or rental from some of the biggest entertainment companies in the United States. Additionally, the 4G LTE-enabled Galaxy Tab will come preloaded with popular LTE-specific applications.
"The 4G LTE-enabled Galaxy Tab takes full advantage of Android 2.2 to deliver a blazingly fast experience for customers," said Marni Walden, vice president and chief marketing officer for Verizon Wireless. "The 4G LTE-Samsung Galaxy Tab pairs Samsung's advanced technology with the power of Verizon Wireless 4G LTE, so that customers can leap into the future of the mobile multimedia experience."
The Verizon Wireless 4G LTE Mobile Broadband network, launched in December 2010, is the fastest, most advanced 4G network in the United States, providing speeds up to 10 times faster than Verizon Wireless' 3G network. Verizon Wireless' 4G LTE Mobile Broadband network currently reaches one-third of all Americans, with plans to expand the network to the company's entire 3G coverage area over the next three years.
For more information about Verizon Wireless' 4G LTE network, visit www.verizonwireless.com/lte and for more information about Verizon Wireless at CES, please visit www.verizonwireless.com/ces or follow us on Twitter at www.twitter.com/verizonwireless.

As an Amazon Associate I earn from qualifying purchases.