Verizon Drops Prices on Two Current 4G LTE Smartphones
It's almost certain that Verizon, Google and Samsung will be announcing the Galaxy Nexus in the next few weeks, a device that is in possession of model number SCH-I515. And we've also heard that the Nexus will be the replacement for a phone called the Samsung Droid Charge, a device that has model number SCH-I510. So, it should come as no surprise that Verizon, months and months after the phone's release, has decided to drop the price on the Droid Charge as of Friday.
The Samsung Droid Charge has dropped down to $199 on-contract at Big Red, its cheapest price since launch.
You may have also heard about a phone called the HTC Vigor, a phone that will likely be taking the place of another 4G LTE phone that currently calls Verizon home. The Vigor, which may launch as HTC Vigor, will likely be replacing the HTC ThunderBolt, a phone more known for its bugs than its title of Verizon's first 4G LTE smartphone.
Well, it too has received a price drop all the way down to $49.99.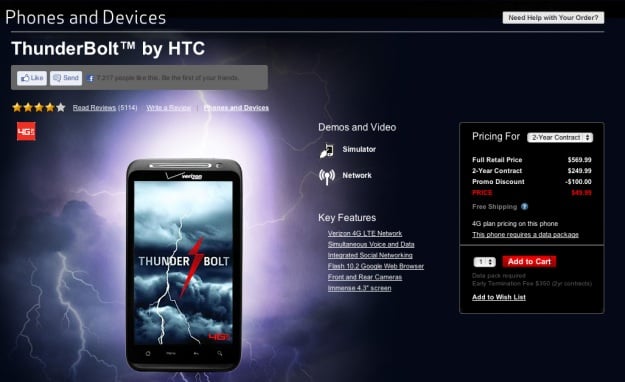 You'll need to be logged in to a Verizon account in order to see that price but it does exist.
So what does this mean? This means that you can scoop up a new 4G LTE smartphone from Verizon for cheap but it also means that new devices are on the way and boy, are we excited.
You can buy a ThunderBolt here or a Droid Charge here. Just make sure you think for a long while on whether or not you want to wait for the Vigor, Galaxy Nexus or heck, even the Motorola Droid HD aka Motorola Spyder.
Via: Droid-Life

As an Amazon Associate I earn from qualifying purchases.